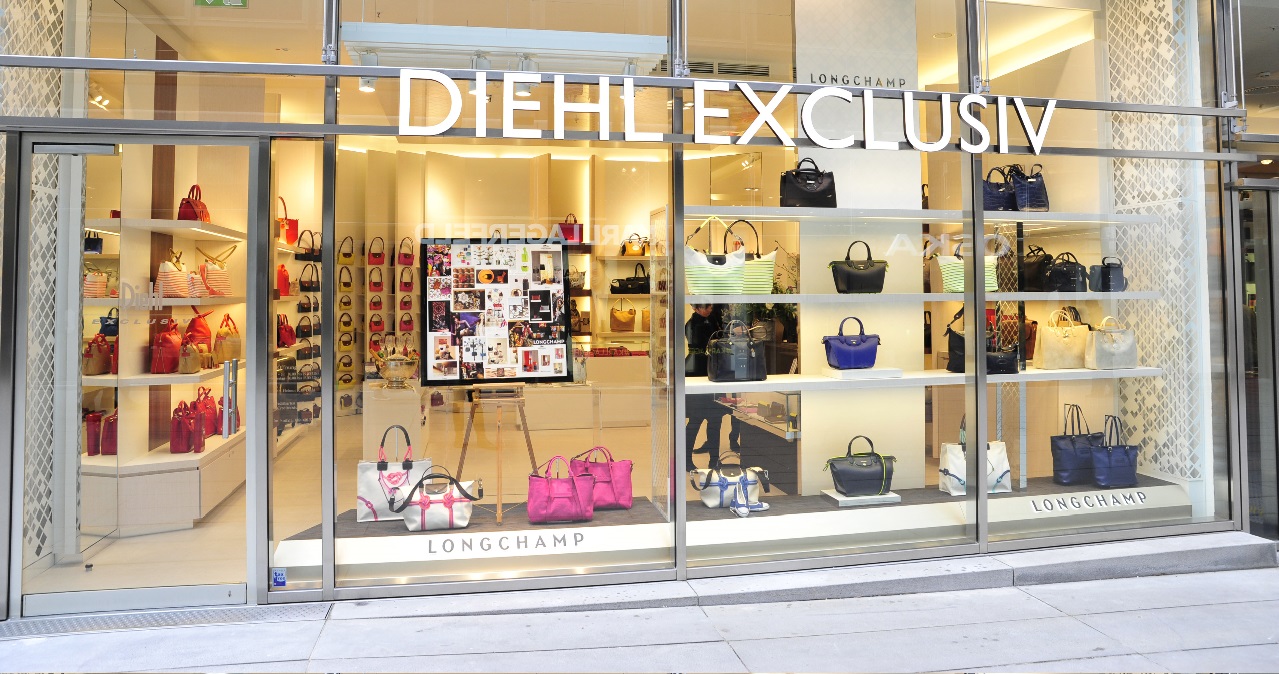 Diehl Exclusiv
Whether handbag or purse, backpack or travel bag, trolley, leather briefcase or other accessories for fashion and business: at Diehl exclusiv in the Maffeihof of FÜNF HÖFE's exclusive shopping center, right next to Pfeifen Diehl, you are guaranteed to find what you are looking for. Here, strikingly beautiful pieces for men and women await you, because Diehl Exclusiv specialises entirely in high-quality, exquisite brands for bags and leather accessories.
Insider tip from Vienna: Albert Pattermann
Austrian charm, for example, comes from the Viennese manufacturer Albert Pattermann. The handmade handle and shoulder bags make you want to stroke them all the time, because they are made of soft, chemical-free leather and excellently finished with fine leather lining. Alexander Rippka, bag maker and owner of the bag manufacture Albert Pattermann, says: "The Albert Pattermann brand stands for fashionable chic paired with classic elegance – crafted with excellence. That's a high standard that is asked for by my customers and that spurs me on enormously!"
Insider tip from Paris: Maison Pourchet
And oh, là là – how simply chic everything is from the French Maison Pourchet – founded in Paris in 1903! For women, the sporty and elegant collection ranges from small purses to shopping bags for every day. Pourchet is still an insider tip in Germany. In France, the label started over 100 years ago as Maison Pourchet, a workshop for exquisite leather bags that dangled coquettishly around the wrists of the elegant ladies of La Place des Vosges and were very "en vogue".
Stylish-sporty accessories: Mac Douglas
And last but not least: the select collection of the French label Mac Douglas (1947) is worth a look for the stylish-sporty lady. The products for ladies and gentlemen include the classics from wallets to shoulder bags and shoppers to suitcases.
Diehl exclusiv – the first Longchamp store in Germany
Did you actually know that Diehl Exclusiv was instrumental in making the French label Longchamp known in Germany? With the opening of the first Longchamp boutique in Munich, Diehl Exclusiv did real pioneering work – long before it became a global brand. Diehl Exclusiv is still proud of this today. In the bright store in the Maffeihof of FÜNF HÖFE you will find a selected range of Longchamp bags. From the top fashionable handbag to the briefcase, wallet and crossbody bag made of leather for men and women to small leather goods, luggage and accessories. Of course, the foldable nylon bag "Le Pliage" can also be found in all sizes and colours. All women of all ages still love this classic!
The best thing is to come by in person and get expert and competent advice. And when you pay with your Sparkassen-Card (debit card), 2 percent loyalty discount automatically goes into your own pocket.
Looking for more handbags, leather and travel accessories? You might find something at Bric's or Coccinelleor another one of our lovely fashion and lifestyle stores.
FÜNF HÖFE
Maffeistraße 6-8
80333 München
Leather goods and accessories
Ground floor
Mon-Sat 10:00 am - 07:00 pm

Map
Map view:
2D

3D