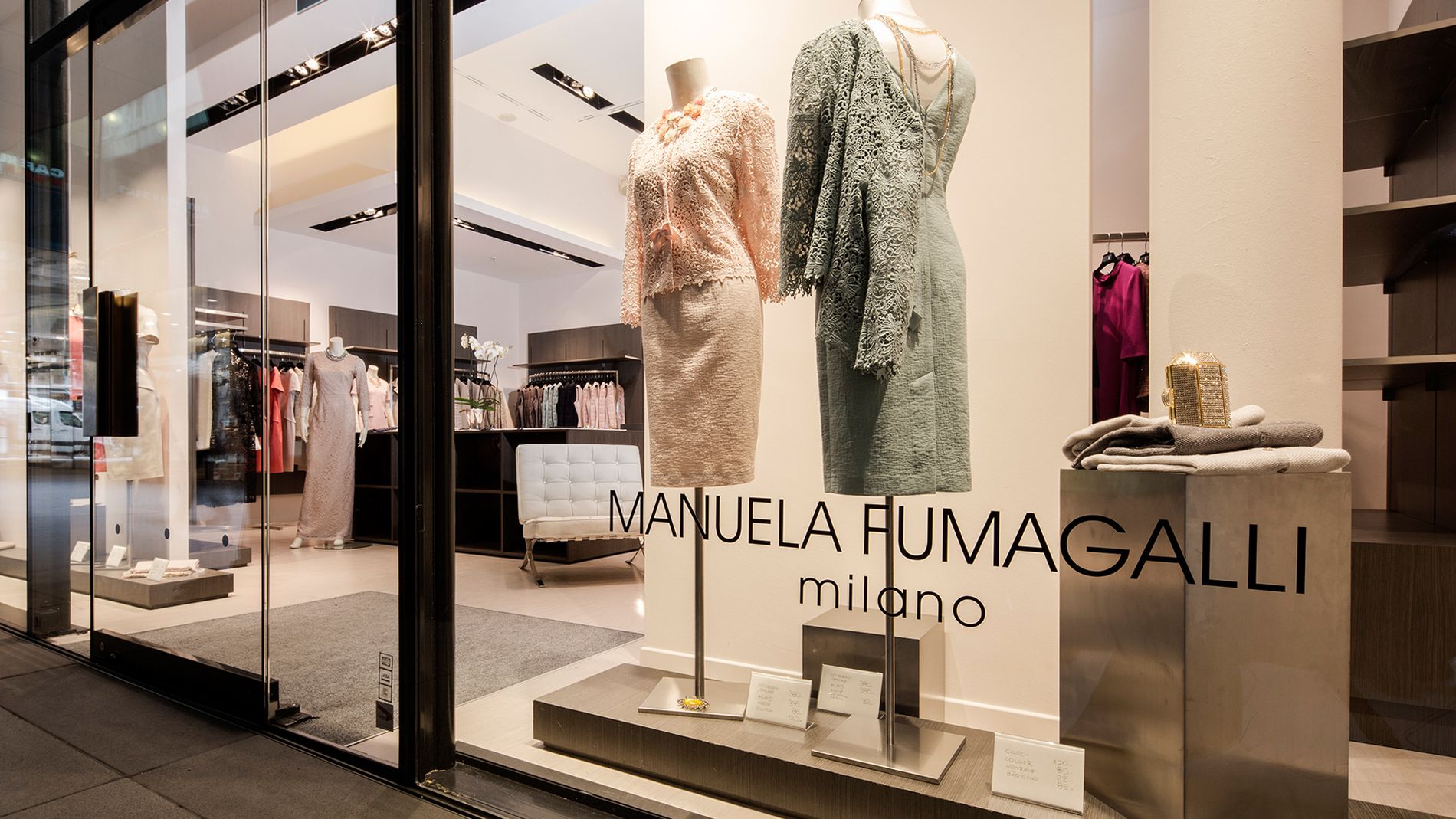 Manuela Fumagalli Munich
Manuela Fumagalli Munich has been designing Italian women's fashion and accessories for more than 20 years. With high-quality workmanship, she combines refined cuts and wonderful fabrics to favourite pieces. Her feminine, elegant styles with that special something enrich the fashion landscape of the Bavarian capital – and FÜNF HÖFE Munich is the perfect location for Manuela Fumagalli.
Manuela Fumagalli Munich – the fashion designer
The Italian designer Manuela Fumagalli has a perfect sense for trends and has been enchanting her discerning customers in search of something special since 1993. After studying business administration in Milan, she followed her passion for fashion and has designed timeless models and collections every season for her boutique Manuela Fumagalli Munich. All pieces are made by her own production team in Milan whose manufacture she is controlling personally with great care. Fine taste, creativity, craftsmanship and attention to detail are indispensable for Manuela Fumagalli. For her, every customer is above all a friend whom she advises warmly and honestly. In her boutique Manuela Fumagalli Munich in the Perusahof of FÜNF HÖFE, opposite BOSS and FÜNF HÖFE Optik, she presents her creations in a charming atmosphere dominated by an oversized portrait of the wonderful Italian film diva Sophia Loren.
Elegance, Prêt-à-Porter & Accessories
Manuela Fumagalli Munich offers a range of fashionable styles that customers can personalise as they wish. Shorter or longer, wider or narrower, different sleeves … Selected fabrics, cuts and colours are then created into very special, individual favourite pieces in high-quality workmanship. In this way, every woman can let her own femininity shine with her personal touch, perfectly tailored to her figure and wishes.
The woman who wants to look perfect all the time in a quick and uncomplicated way selects the very latest news from the Milanese fashion scene at Manuela Fumagalli Munich. For those who love the unique and wonderful pieces that can't be found anywhere else, this is the place to be. Cashmere cardigans, wash-and-wear dresses, coats and much more are there to wear, fall in love with and take home.
Exclusive matching accessories – from colourful, imaginative brooches made of the best crystal stones to extravagant statement necklaces and earrings made of buffalo horn to handbags, clutches and shoes – add the finishing touch to the individual look and perfectly round off the extraordinary outfits of the charming Italian designer.
FÜNF HÖFE
Theatinerstraße 8
80333 München
Women's fashion and accessories
Ground floor
Mon-Fri 10:00 am - 07:00 pm
Sat 10:00 am - 06:00 pm
Map
Map view:
2D

3D