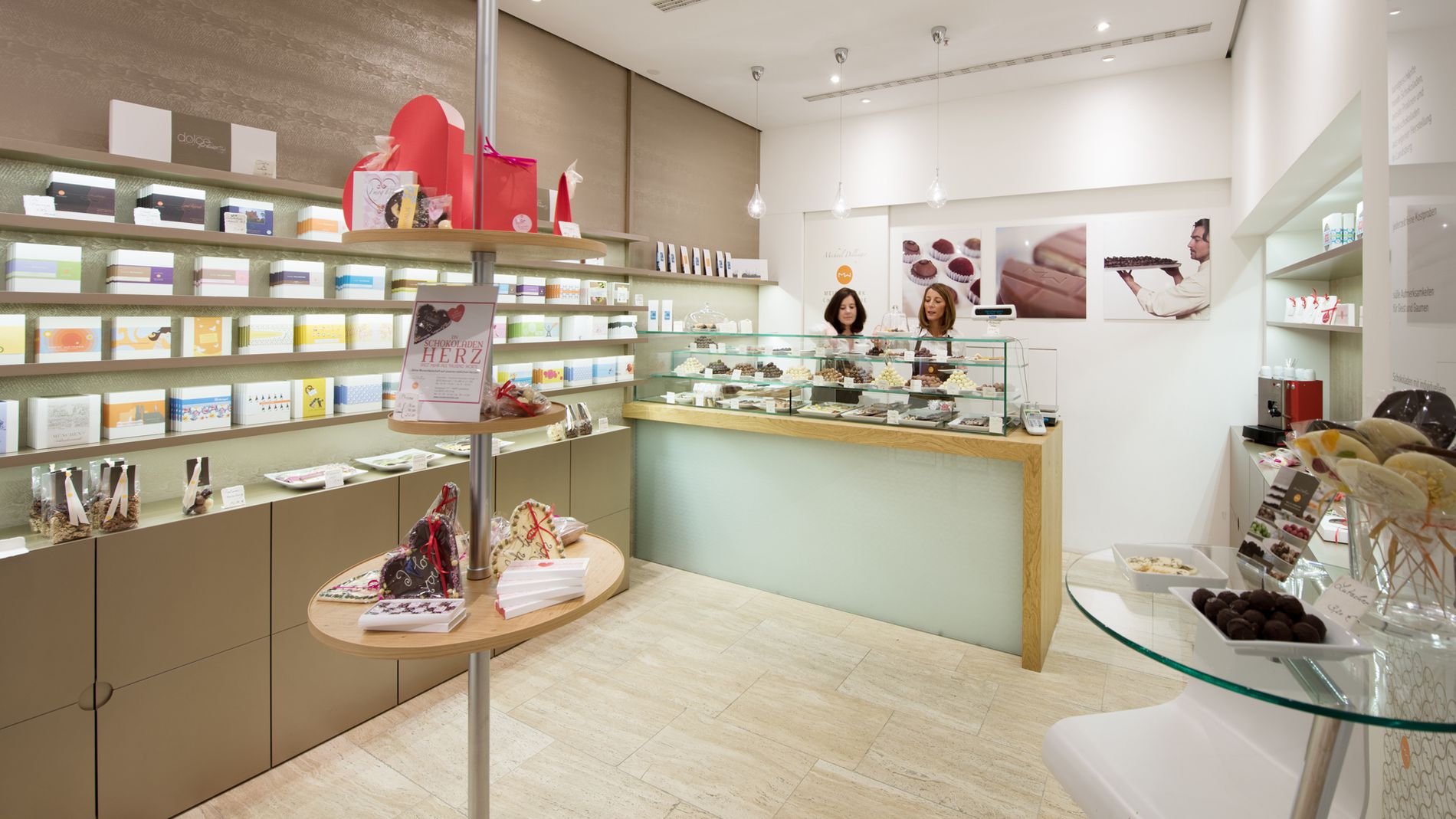 Michael Dillinger –­ Ice Cream & Chocolate
Website
Michael Dillinger – Ice Cream & Chocolate Munich
"When everything is alike, it's the difference that counts" – under this motto, chocolatier Michael Dillinger designed the chocolate of his dreams: the round chocolate bar for which Michael Dillinger – Ice Cream & Chocolate is known and loved. Practical: we encounter the elegant round in ribs of different sizes. But what all ribs, whether large or small, have in common: the delicate melting reminds us of the pleasure of the finest chocolates.
But Michael Dillinger's penchant for the special is also evident in everything else he does. Thus, the chocolate, including the elegant round bar, is produced in the "chocolate kitchen" by the master himself in Landsberg with great attention to detail. In the process, he combines traditional flavours with young wild ones – and there are even vegan pralines. At the centre of all chocolatier art: an incomparable pleasure experience.
Michael Dillinger Chocolate Munich: seeing how it's done
It all started with themed chocolates and the finest chocolates, then Dillinger applied for a patent on his round bars, which have also been sold at the main square in Landsberg since 2007. The special feature: the transparent production. There, customers can see the dedication with which the chocolates and chocolate creations are made. And in Munich, at CityQuartier FÜNF HÖFE, Michael Dillinger – Ice Cream & Chocolate Munich has a small, fine branch.
Conscious enjoyment
The most important thing for the quality of the bars and chocolates is the selection of the raw materials. Michael Dillinger – Ice Cream & Chocolate uses only premium quality raw materials: the best raw cocoa varieties from careful roasting, high-proof brandies and the finest ingredients from controlled cultivation. Michael Dillinger obtains the raw materials mainly from suppliers in the region; maintaining regional added value is important to him: "You enjoy handmade chocolate consciously, you want to do something good for yourself."
He does not use any artificial flavourings or preservatives, which is the reason for the short minimum shelf life. The chocolate is made fresh by hand, on demand and with little storage. The masterpiece chocolaterie also went through the process of organic certification last year. "Frohnatur" is the name of the organic line, which makes up about a third of the total assortment and is also available at Michael Dillinger – Ice Cream & Chocolate Munich at FÜNF HÖFE.
By the way: it is best to store chocolate only for a short time, ideally in a darkened room up to a maximum of 18° Celsius. Then let the bar or chocolates come to room temperature briefly to enjoy – and melt away!
FÜNF HÖFE
Prannerpassage
Kardinal-Faulhaber-Str. 11
80333 München
Ice Cream & Chocolaterie
Ground floor
Mon - Sat 11:00 am - 06:00 pm

Map
Map view:
2D

3D