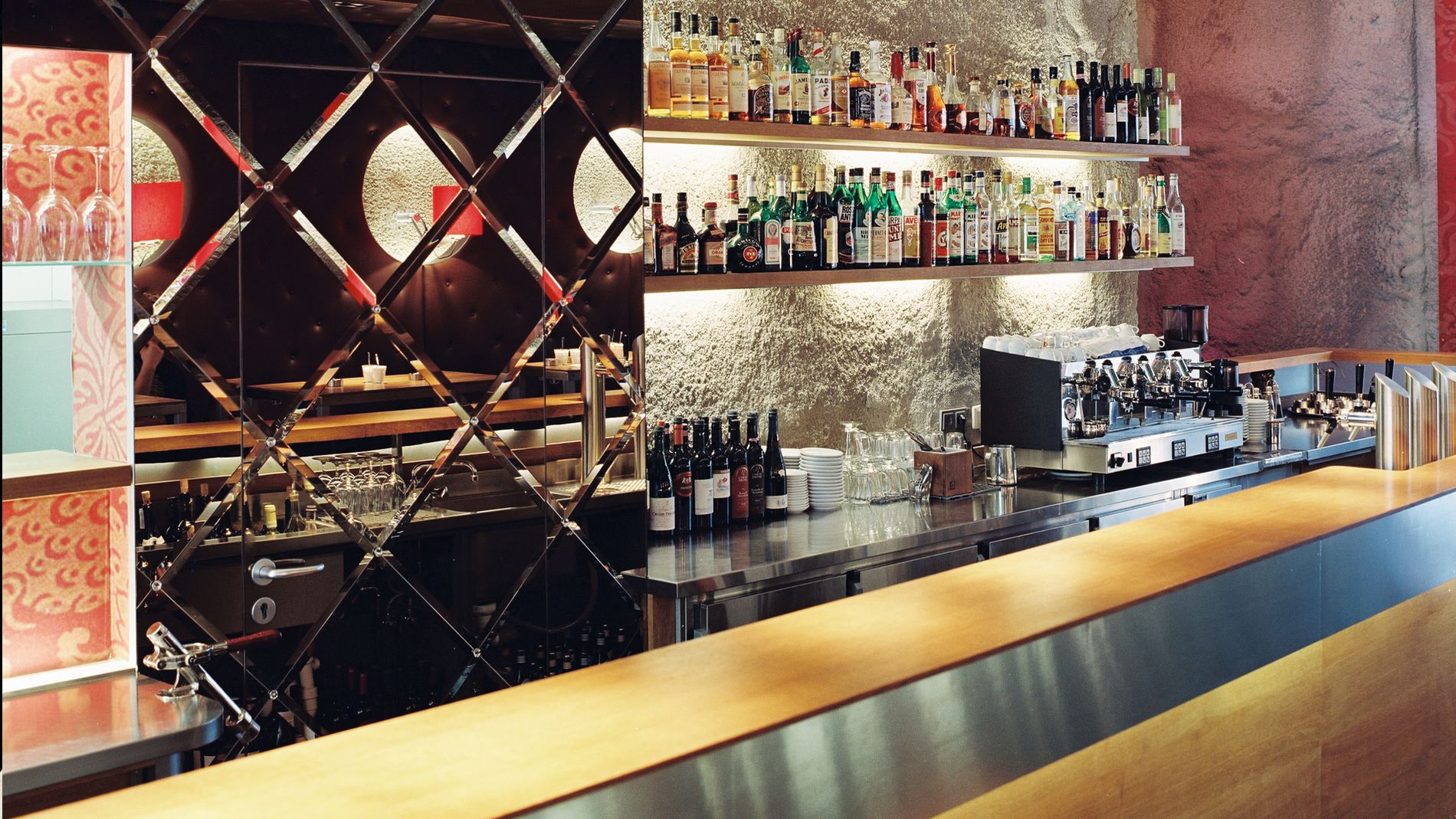 Bar Comercial
The Bar Comercial Munich at FÜNF HÖFE is one of the most popular bars in Munich, and not just because of its architecturally award-winning interior. In addition to the excellent stone-baked pizza, you will be spoilt here with many other Italian classics, such as pasta and toasts. The Bar Comercial offers continuous hot food until midnight and a constantly changing daily menu. In addition, there are almost two dozen selected open wines, perfectly mixed drinks and aperitivi and, of course, Italian coffee specialities. Those who love sweets will be happy with tiramisu, panna cotta, torta della nonna or other desserts and cakes.
Those who come here appreciate the professional service and the quality of the food and drinks. The two large terraces of the bar are also a popular meeting places – especially in summer – from where you can relax and watch the hustle and bustle around the FÜNF HÖFE. Whether for a business lunch, a little shopping break, for night owls or to have a drink under the open sky after a nice evening at the theatre or cinema. By the way, Bar Comercial Munich has been around since the opening of FÜNF HÖFE itself.
Bar Comercial Munich: iconic & cool
The raw brickwork of Bar Comercial Munich, together with the exclusive interior, has an iconic but not overbearing effect. Designed by architects Stadler+Partner, the bar is reminiscent of an Italian espresso bar. A black board with the current menu of the day hangs above the bar, huge faceted mirrors with glittering glass knobs and lights made of crystal glass on slender stems made of chrome-plated tubular steel quote the design of the 1950s. The bar counter runs once through the entire room – a perfect place for a drink in between.
The natural lighting of the interior changes during the course of the day because of the large glass surfaces. Dimmable luminaires vary the lighting mood in the bar depending on the time of day/night and the weather.
Sophisticated after-work
Bar Comercial Munich is a popular meeting place after shopping – or for a small snack or nightcap with colleagues after a successful day at work. Because at the Bar Comercial Munich, after-work culture is a top priority. Not only the regulars from the surrounding offices appreciate the open and communicative atmosphere of the bar. You can chat easily and meet new people over a beer, sprizz or cocktail.
Would you like to know what other bars, cafés and restaurants the FÜNF HÖFE have to offer? Click here for an overview.
FÜNF HÖFE
Theatinerstraße 16
80333 München
Bar and restaurant
Ground floor
Tue-Sat 09:00 am - 01:00 am
Mondays closed
Map
Map view:
2D

3D