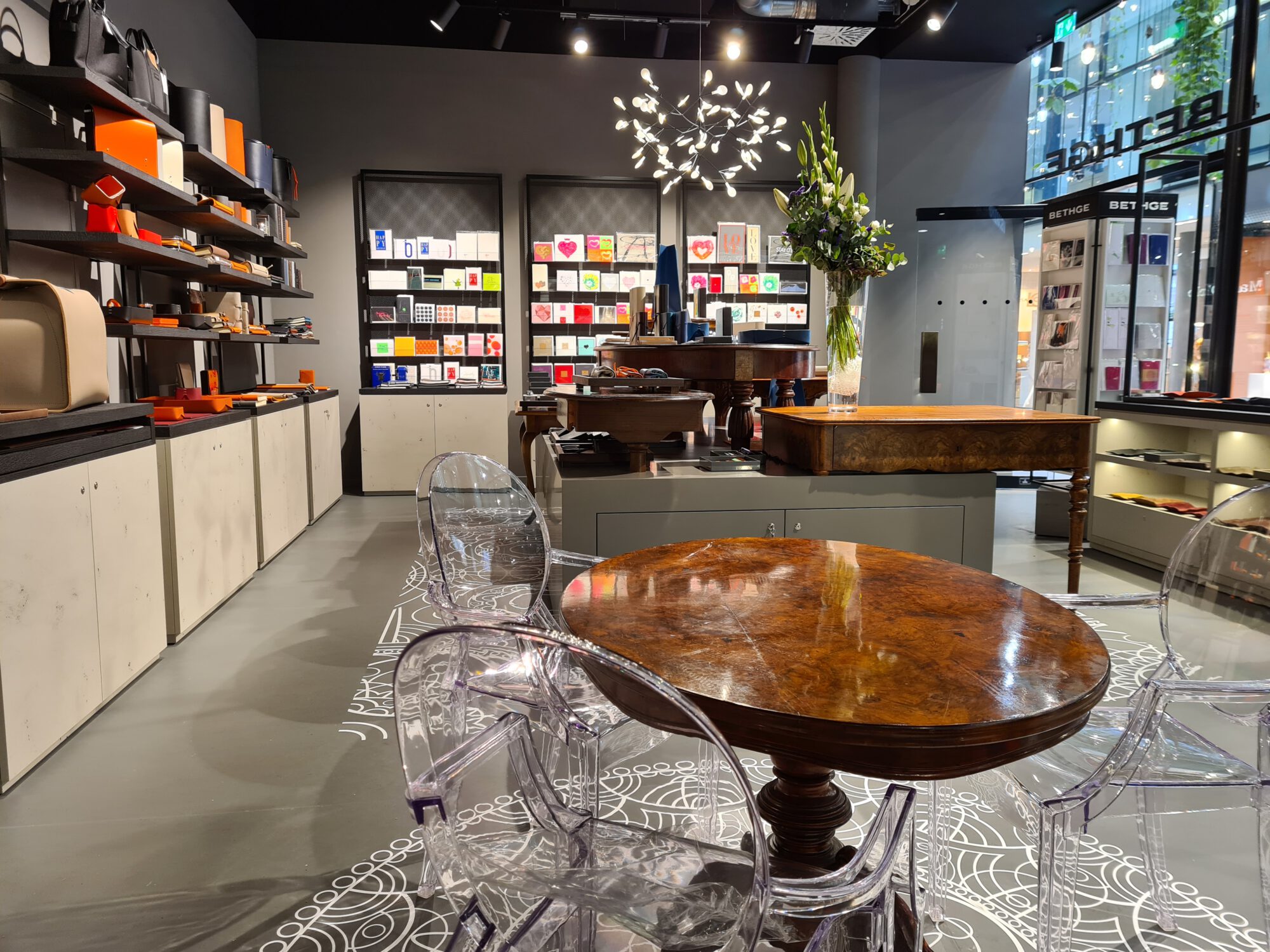 Bethge Munich
Luxury writing utensils, leather accessories, design gifts
The Bethge product world, that means: leather books, bags, desk accessories and everything that has to do with the culture of writing. The Bethge collection comprises a constantly expanding range of beautiful things: leather cases handmade in Europe for the digital and non-digital world, fine writing instruments, fine accessories for the desk, stylish notebooks, address books, calendars, photo albums and guest books – or accessories for even more joie de vivre, such as sunglasses, umbrellas, jewellery, games and bags: all products at Bethge follow the credo of highest quality and have been selected with great attention to detail – also at Bethge Munich at FÜNF HÖFE. The small, fine shop offers you a fine selection from this range.
Bethge Munich – in Munich exclusively at FÜNF HÖFE
Bethge's screen-printing manufacture also produces highly elegant, individual printed matter using traditional craftsmanship and its own design. Whether business cards, invitations or business stationery – the staff at Bethge Munich will be happy to advise you on the design so that you can perfectly elaborate your individuality. Individual wishes are realised aesthetically, nobly and with great attention to detail. Whether private or business invitations and festive designs, small or large print runs – the high standards of quality and perfection always ensure that the print result is an absolute wish fulfilment.
The product and brand range includes: Writing instruments from Caran d'Ache, Graf von Faber Castell, Montegrappa or Montblanc to classic office aids from El Casco, calendars and iPad sleeves from Whitebook, credit card cases, notebooks or document folders from Treuleben, office accessories from Marunao Japan to jewellery boxes from Shanghai Tang.
Bethge, originally from Hamburg – the philosophy
"The desire for quality does not make life easier, but more beautiful." That is the motto at Bethge. When Waltraud Bethge founded her company in 1977 with a printing studio in the backyard and a retail shop in Hamburg Eppendorf, her aim was to make the working world more beautiful.
An exquisite range of writing instruments and exclusive desk accessories as well as an innovative selection of wrapping papers, greeting cards and individual letterheads produced in-house formed the product range. The shop quickly advanced to one of the best addresses in Hamburg, and its reputation as a cult shop for the fine culture of writing and gift-giving soon spread beyond the borders of Hamburg – to Munich, too, of course.
Bethge Concept
Hamburg | Düsseldorf | Munich
FÜNF HÖFE
Theatinerstraße 14
80333 München
Ground floor
Mon-Fri 10 am - 7 pm
Sat 10 am - 6 pm
Map
Map view:
2D

3D