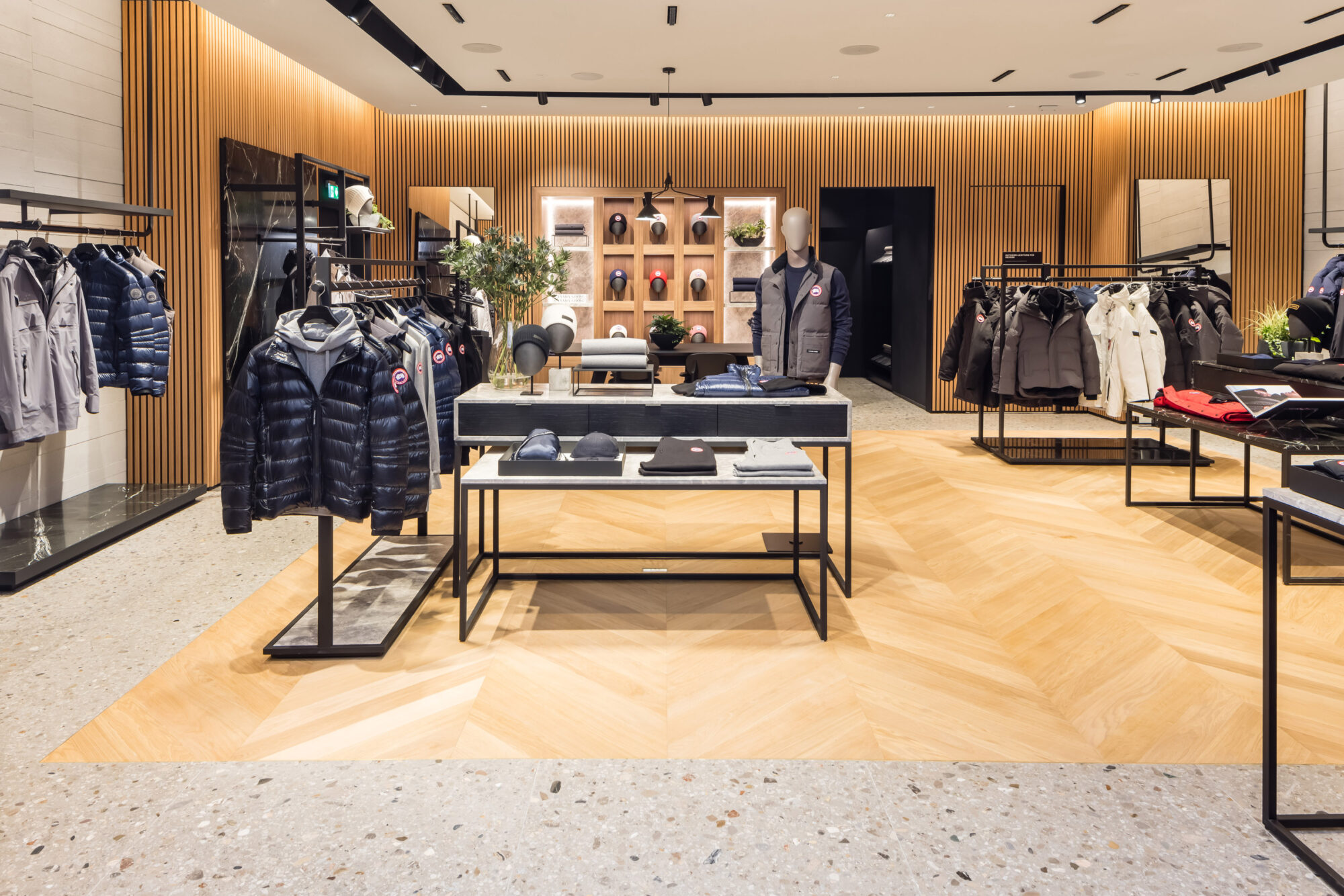 Canada Goose Munich
The store of the performance and luxury brand Canada Goose in the ensemble of FÜNF HÖFE on Munich's Theatinerstraße is the brand's third store in Germany. After London, Milan, Paris, Berlin and Frankfurt, the Bavarian metropolis is the lifestyle brand's sixth location in Europe.
"Munich is Germany's third-largest city and is known for its technological pioneering role in the hightech, automotive and service sectors, but also in IT, biotechnology, engineering and electrical engineering. Hardly any other major German city can match Munich in terms of tradition, architecture and culture. In addition, the breathtaking natural sites near the city, such as Lake Tegernsee, Lake Starnberg, as well as the mountains, offer many opportunities for outdoor activities. Whether hiking, climbing, sailing or skiing: Munich is the perfect location for a new Canada Goose store to also deliver on the brand's promise to its customers to enable and enjoy the outdoors." This is what Canada Goose wrote in its press release on the opening of Canada Goose Munich.
Canada Goose Munich: Outdoor fashion for Munich residents
The Munich store at FÜNF HÖFE offers a wide range of over 300 seasonal items designed specifically for the city's continental climate, including rainwear, windwear, down jackets and premium knits for women, men and kids. It will also feature various collaborations and new launches in the coming seasons.
The Canada Goose store in the FÜNF HÖFE is located at the intersection of classic and modern architecture. The interior design of the new store also reflects the fusion of classic and modern with a combination of concrete walls in industrial style and wooden floors "Made in Germany". Just take a look inside.
About Canada Goose
Founded in 1957 in a small warehouse in Toronto, Canada, Canada Goose has grown to become one of the world's leading manufacturers of performance luxury apparel. Each collection is shaped by the harsh demands of the Arctic and inspired by relentless innovation and uncompromising "Made in Canada" craftsmanship. In 2020, Canada Goose announced HUMANATURE, its Purpose platform that unites all sustainability and values-based initiatives and underscores its commitment to keeping the planet cold and the people on it warm. Canada Goose also owns Baffin, a Canadian designer and manufacturer of high-performance outdoor and industrial footwear.
More info on Canada Goose at www.canadagoose.com
Looking for more women's fashion and men's fashion at FÜNF HÖFE? Click here.
FÜNF HÖFE
Theatinerstrasse 12
80333 München
Fashion
ground floor
Mon-Sat 10:00 am - 07:00 pm
Map
Map view:
2D

3D