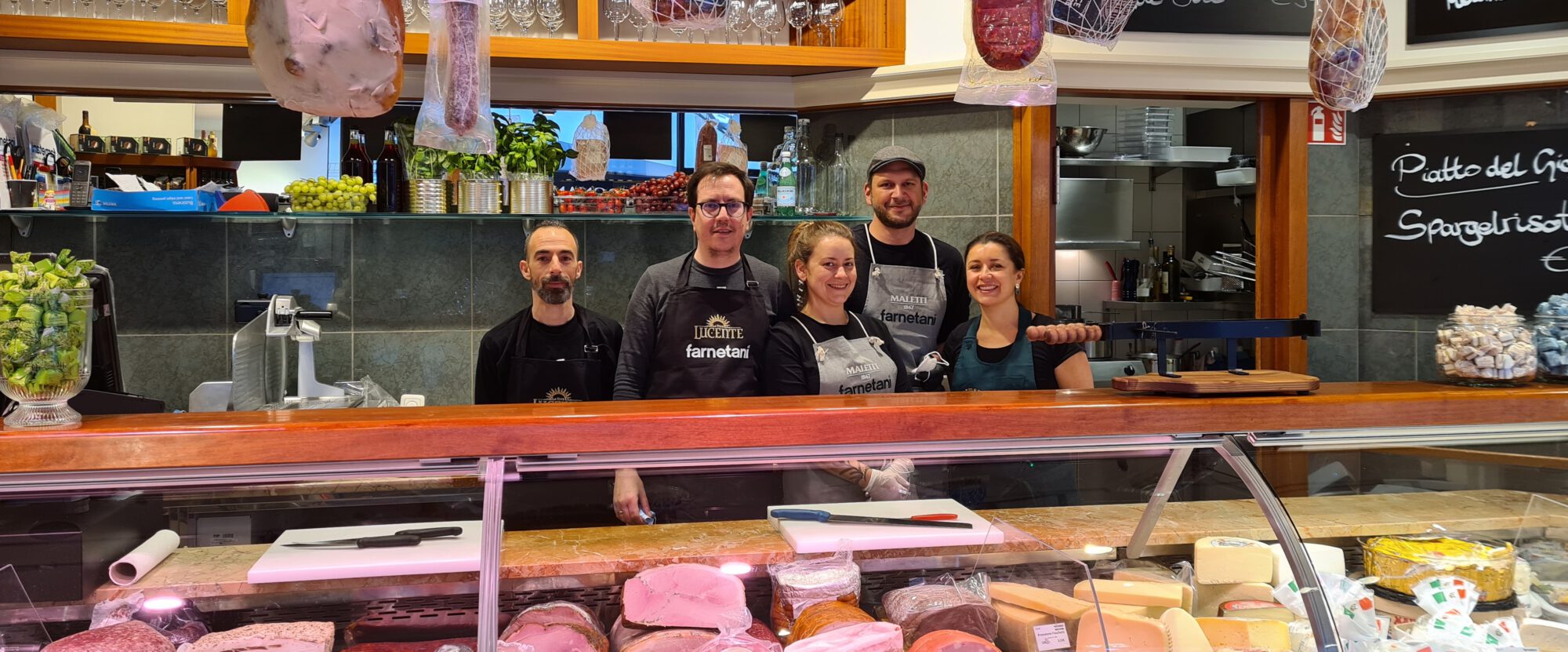 Temporarily closed.

Farnetani Centro – Italian delicatessen & wine
Where there has been the popular Italian delicatessen shop in Viscardihof – Gusto Italiano da Giovanna – there is now: Farnetani Centro – Delicatessen & Wine. This means that the tradition of Italian delicatessen at FÜNF HÖFE will be continued and you, the visitors and customers of FÜNF HÖFE Munich, will find a piece of authentic Italy here in the heart of Munich.
Farnetani Centro – FÜNF HÖFE Munich
The small shop in the FÜNF HÖFE is run by Federico and Lorenzo Farnetani, the sons of the company's founder Roberto Farnetani. The Farnetani family stands for Italian quality of life, fine wines and a passion for good food and drink.
The assortment at Farnetani Centro at FÜNF HÖFE includes everything what an Italy lover and gourmet desires: from pasta and olive oil to classic specialities such as grissini, dolci, colomba at Easter and panettone at Christmas to marmelade, pesto and other delicacies. On the shelf you will find white wine, red wine, prosecco, spumante, grappa, limoncello … In the fresh food counter you will find a varied selection of Italian formaggi, prosciutti e salame – cheese, ham and salami.
Dolce Vita from morning to closing time
At lunchtime, a weekly menu awaits you with hot dishes such as lasagne, risotto and other small Italian delicacies – to take away or to eat at the bar tables in the small shop and in summer also in front of it. Freshly made foccaccia and antipasti are available from the counter. Of course, espresso, cappuccino and the typical Italian brioches and other dolci are not to be missed. This is a great way to start a day in the city centre – whether before shopping or on your way to the office!
What's new: thanks to the new customer toilet, Farnetani Centro is now also allowed to serve wine, spumante, prosecco and aperitivi. Perfect to round off a day of work or shopping!
Italian delicatessen in Munich
The Farnetani company can already look back on almost 40 years of tradition in Munich. Company founder Roberto Farnetani began distributing Italian delicatessen and wines in Munich in 1982. The company has grown steadily over the years and is now the leading wholesaler of Italian delicatessen and wines in the region. In addition to numerous restaurants, its customers include large hotel chains, department stores and Munich Airport.
In 2004, the company was awarded the "Mercurio 2003" business prize for its services to German-Italian business transactions. In 2017 – just in time for the company's 35th anniversary – Farnetani was awarded the Phönix Prize by the City of Munich for outstanding economic achievements by companies with a migration background. Many people are probably also familiar with the large Farnetani delicatessen shop in Munich-Pasing.
Now Farnetani Centro is their first shop in the heart of Munich's city centre. The Farnetani Centro team is looking forward to seeing you!
FÜNF HÖFE
Theatinerstraße 14
80333 München
Pleasure
Ground floor
Temporarily closed
Map
Map view:
2D

3D