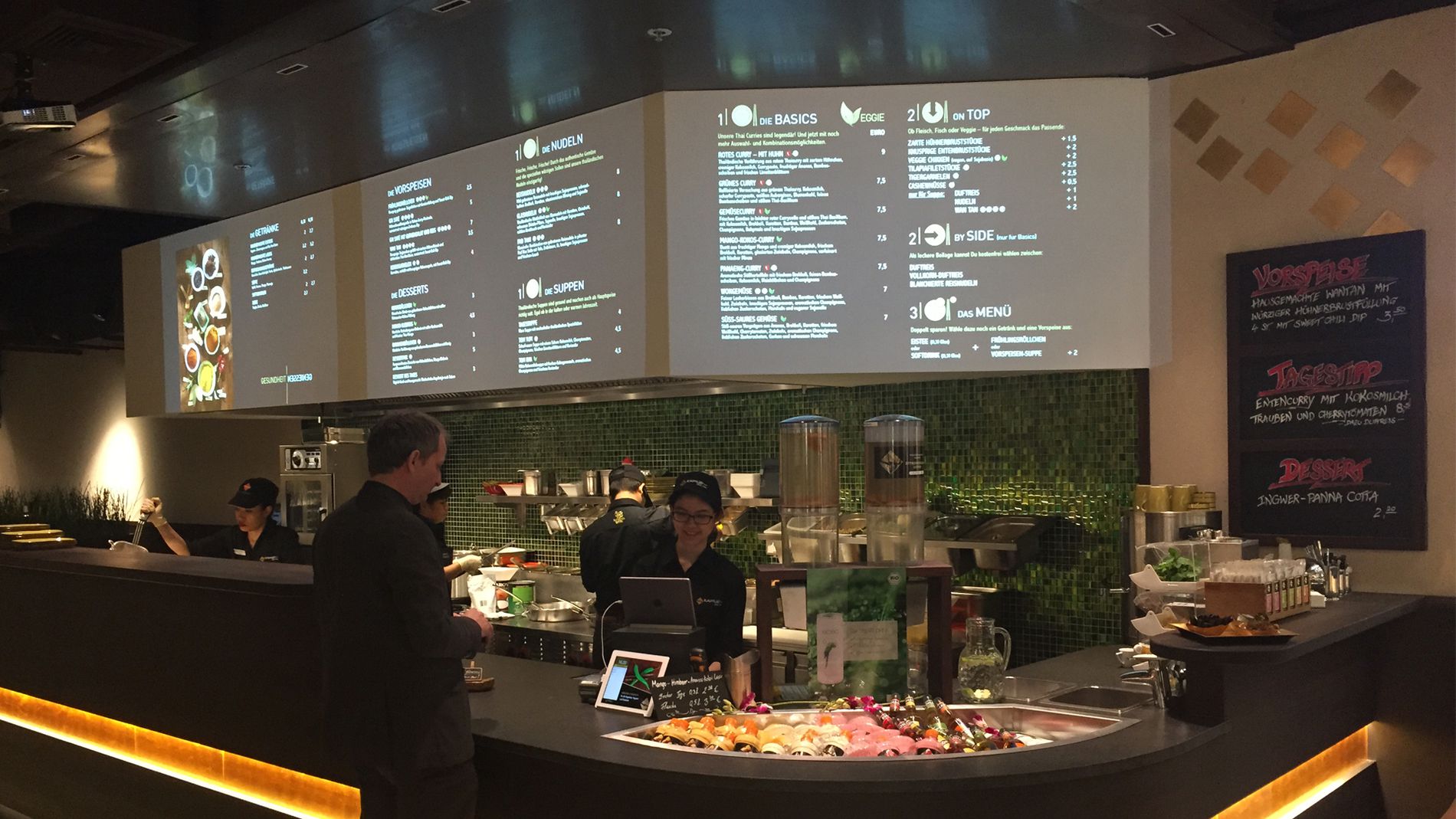 Kaimug Munich
From spring rolls and soups to stir-fried vegetables, fried rice noodles, fresh curries and Pad Thai to Mango Sticky Rice or banana balls: If you like healthy, fresh Thai food – and don't want to waste much time during the day – Kaimug Munich is the place for you. Because it doesn't just say Thai on it – there is also Thai in it. All dishes are without flavour enhancers and glutamate! True to the idea of bringing traditional Thai cooking with its exotic taste experiences to Germany, Kaimug offers culinary highlights in its restaurants in an appealing, modern ambience – including front cooking.
Asian Food – to stay and to go
The success story of Kaimug Munich began in 1996, when founder Bernd Ungewitter returned from several years in Thailand with a vision: he wanted to establish authentic Thai cuisine in Germany. In just a few years, he developed a mature concept that has found a permanent place in Germany's diverse gastronomic landscape. The result is a company with its own production facility for quality assurance, centralised purchasing, verified recipes and a relaxed flair.
Thailand feeling during the lunch break
At the Kaimug restaurant at FÜNF HÖFE CityQuartier Munich, you can experience the taste of Asia. Most of the pastes, sauces and dips as well as the finger food and soups come directly from the affiliated manufactory in Thailand. Kaimug uses only fresh, high-quality ingredients for preparation according to the original Thai recipe and attaches great importance to gentle preparation. The open kitchen allows you to look over the team's shoulder as they cook and fry. Most of the staff come from Thailand and ensure an all-round perfect dining experience with their friendliness and competence. All dishes are also available to take away.
Cooking yourself – at Kaimug Munich
Cooking Thai food is not an art, it is a passion! Kaimug Munich is happy to share this passion with its guests in the form of Thai cooking classes. Together, they cook in small groups according to original Kaimug recipes: with lots of tips on the selection of ingredients, their gentle preparation and the correct use of Asian spices, the Kaimug Thai cooking courses are a wonderful event for every lover of traditional Thai cuisine – and the perfect gift idea. Just ask in our Kaimug for vouchers! And: The cooking courses at Kaimug Munich can also be booked exclusively for groups. For more information, please write an email to kochschule@kaimug.de or visit this website.
You can find more restaurants, cafés and bars at FÜNF HÖFE here.
FÜNF HÖFE
Theatinerstraße 15
80333 München
Thai Restaurant
Ground floor
Mon - Sat 11:00 am - 09:00 pm
Map
Map view:
2D

3D