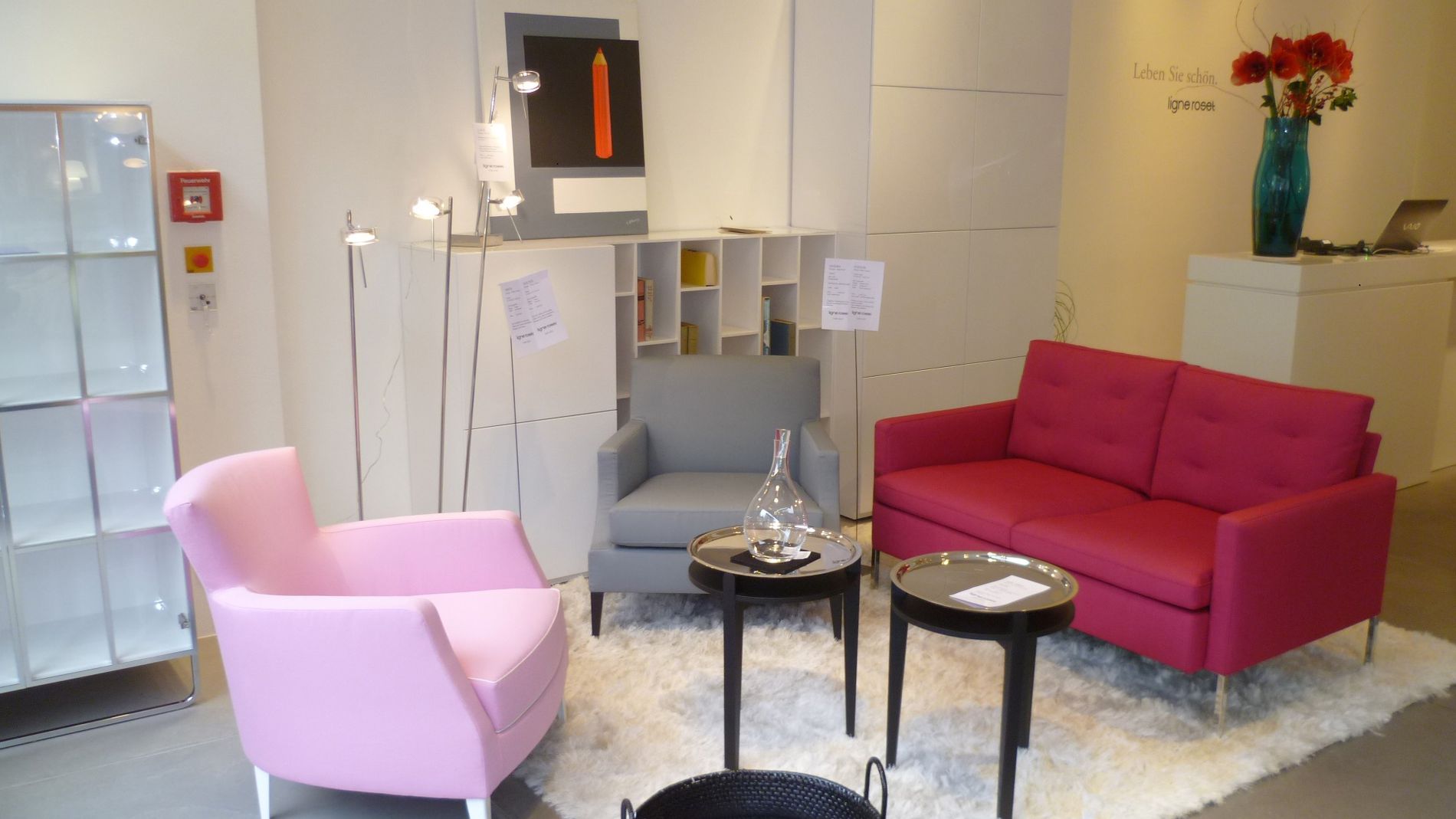 Ligne Roset FÜNF HÖFE Munich
The interior design store of Ligne Roset FÜNF HÖFE stands for timeless elegance and stylish, high-quality furniture manufactured sustainably in France: modern and comfortable seating, living and bedroom furniture, armchairs and sofas, lamps, tables, chairs, home accessories, carpets and textiles. Products by Ligne Roset embody a contemporary attitude to life – for open minded, creative, dissenting and intellectually curious people.
The display in the store spreads a special atmosphere – always up-to-date and accentuated with colour, it delivers relaxed inspiration for one's own home. The entire team attaches great importance to meeting your wishes and making you truly happy with the products you choose. This also includes the individual sewing service for cushions: If you can't find the right cushion in the available range, you can choose fabrics and colour combinations to suit your mood – fabric samples can also be taken home on loan – and Ligne Roset Munich at FÜNF HÖFE will have the cushions made especially for you in the individual measurements you desire.
What's special about Ligne Roset FÜNF HÖFE
What sets Ligne Roset apart from other interior design brands is its tradition of dynamic collaboration with various designers. The interior designer Michel Ducaroy, for example, designed the Togo seating furniture, which is now considered a design icon and is available as an armchair or sofa. Clear design, paired with technical innovations, made Ligne Roset grow from a small business to a multinational company. At the same time, the French company has always remained in family hands since its foundation in 1860.
Ligne Roset FÜNF HÖFE: Service with know-how and heart
The Ligne Roset team advises you both in the studio and at home – competently, comprehensively and individually. From sketches to 3D visualisation, everything is possible. Delivery and assembly of the furniture is carried out by the company's own, very careful team of employees. The assembly team is also available to the customer at a later date, for example, for realignments, service work or extensions to existing furniture. In the event of a move, Ligne Roset FÜNF HÖFE is also happy to arrange competent specialists who know how to handle the valuable Ligne Roset products. After a few years, do you need upholstery work or new covers, or do you fancy some fresh colours? Ligne Roset FÜNF HÖFE Munich will of course be at your side.
You can find more interior design at FÜNF HÖFE here.
FÜNF HÖFE
Salvatorstr. 3
80333 München
Residential furniture
Ground floor
Mon-Fri 10:00 am - 07:00 pm
Sat 10:00 am - 06:00 pm

Map
Map view:
2D

3D