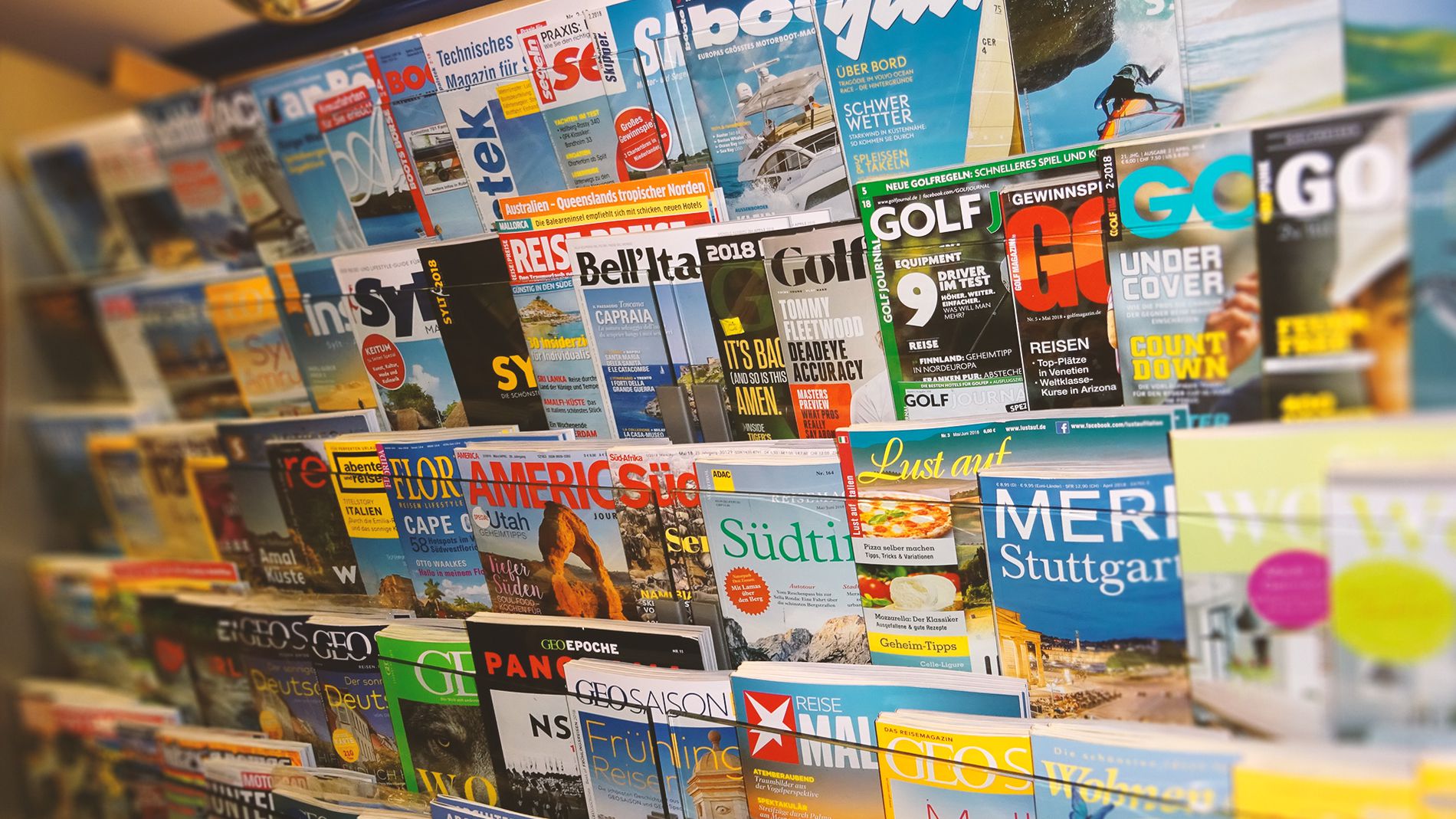 Press Centre
Press Centre FÜNF HÖFE
Newspapers & Magazines
The FÜNF HÖFE press centre is located in Prannerpassage, directly opposite the Bar Barista. If you come from Kardinal-Faulhaber-Straße – for example from the Hotel Bayerischer Hof – you enter FÜNF HÖFE through the tunnel-like passage covered with mirror sequins and can hardly miss the small shop on the right. In this long-established traditional shop, customers will find a customer-oriented, wide-ranging assortment of national and international press that has grown over many years – with a special focus on high-quality, seasonal fashion magazines such as Vogue Hommes International, Esquire, Collezioni Italia and Vogue Collections Paris. But the FÜNF HÖFE press centre not only stocks newspapers & magazines, but also exclusive greetings and greeting cards from Goldbek, ActeTre, Kunst und Bild and Cityproducts, as well as souvenir articles, confectionery, tobacco products and a lottery outlet.
Newspapers & Magazines Munich
The press centre FÜNF HÖFE is competent, cosmopolitan and international and offers a large selection of newspapers & magazines in the centre of Munich. The diverse range includes international daily newspapers such as Corriere della Sera, Gazzetta dello Sport and Il Sole, Daily Telegraph, Daily Mail, The Guardian, The Times, The Financial Times and El País. Also the International New York Times and Wallstreet Journal, Le Figaro, Le Monde and Zürcher Zeitung.
Social and lifestyle topics are covered at FÜNF HÖFE press centre by newspapers & magazines such as CR Fashion Book, GQ and GQ Style, Monocle, Purple Fashion, The Heritage Post, Traveller's World, Vivre Cote Paris, Vogue Hommes International, Wallpaper, Zoo Magazin, Tush and Interview; politics and business by Barrons, Brand eins, Cicero, Börse Online, Figaro Magazin, Le Point, Manager Magazin and The Economist.
Culinary fans will also find what they are looking for at FÜNF HÖFE press centre and will enjoy browsing through Delikat Essen München, Essen + Trinken, Feinschmecker, Feinschmecker Book, Fine Weinmagazin and Food & Travel. Multimedia enthusiasts turn to Audio, Color Foto, Digital Fotografie Extra, Foto Magazin, Hifi & Records, Profifoto, Stereo, Video, Wired, sports fans to Golf Digest, Golf Magazin and Golf Monthly and Yacht Design. Car lovers will find Automobilrevue, BBC Top Gear, Classic Cars or Classic & Sportscar, Ferrari World, Motor Sport or Octane, the classic car catalogue and Porsche Klassik – and for architecture enthusiasts, the press centre has magazines such as Interiors, Häuser and AD in its programme.
And if you don't find what you're looking for here despite all the variety: The Hugendubel bookstore Munich at FÜNF HÖFE also stocks a large selection of magazines on the ground floor on Theatinerstraße.
FÜNF HÖFE
Kardinal-Faulhaber-Straße 11
80333 München
Magazines
Ground floor
Mon - Fri 08:30 am - 07:00 pm
Sat 09:30 - 07:00 pm
Map
Map view:
2D

3D