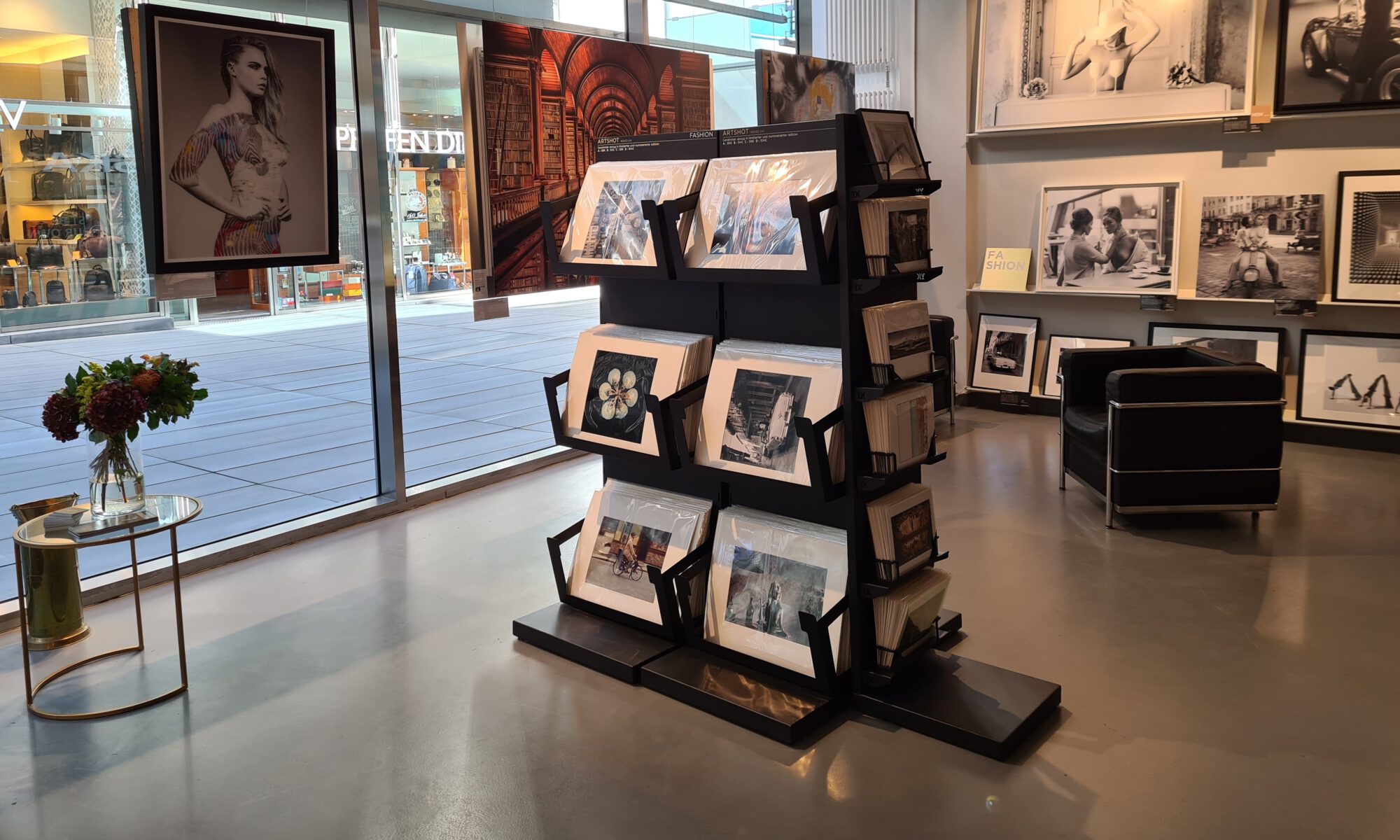 YellowKorner Munich
The YellowKorner Gallery in the Maffeihof of the FÜNF HÖFE is a place for photography enthusiasts, art lovers and interior fans. You will find art photographs by more than 250 artists, in limited editions, in a wide variety of formats and with a certificate of authenticity – at affordable prices.
The concept impresses with its simple equation: instead of offering 10 prints at a unit price of 5,000 euros, YellowKorner takes off 1,000 prints at a price of 50 euros each, offering impeccable quality prints.
YellowKorner produces high-end prints from the Zeinberg professional photo lab on classic paper. The result is optimal in terms of image sharpness and contrast in both colour photography as well as black and white photography.
Limited, numbered, with certificate of authenticity
Under the supervision of the artist, the prints are numbered and provided with a certificate of authenticity. In consultation with the photographer, one and the same photograph may be available in one or more formats: Classic, Colorful, Large Format, Giant Format, Collector or Exception. Each format then corresponds to a certain limit – 5,000, 999, 500, 200, 100 or 50. The larger the format, the fewer copies there are.
The collections at YellowKorner are divided into various themes such as Fashion, Cities & Landscapes, Dream & Creation, Sports & Technology, Travel, Nature and Celebrities & History.
Discover and experience photography
The YellowKorner Gallery in the FÜNF HÖFE is a place of culture where people can discover the art of photography in a very special way. The YellowKorner gallery staff are on hand to help you make your choice with expertise and pleasure.
Art photography for everyone: YellowKorner Munich
YellowKorner was founded in 2006 by two friends: Alexandre de Metz and Paul-Antoine Briat who have both been photography lovers since childhood. This encounter gave birth to an idea and a goal: to make art photography accessible to all and to make YellowKorner the most important publisher of art photography.
YellowKorner wants to offer talents from different currents of photography a place for artistic expression and to promote talents of yesterday, today and tomorrow. The most important selection criteria of the artistic jury: the works must have a true artistic approach. Thus, contemporary artists can be found alongside the biggest names in photography.
FÜNF HÖFE
Maffeistraße 6
80333 München
Art
Ground Floor
Mon-Fri 10:00 am - 07:00 pm
Sat 10:00 am - 06:00 pm
Map
Map view:
2D

3D