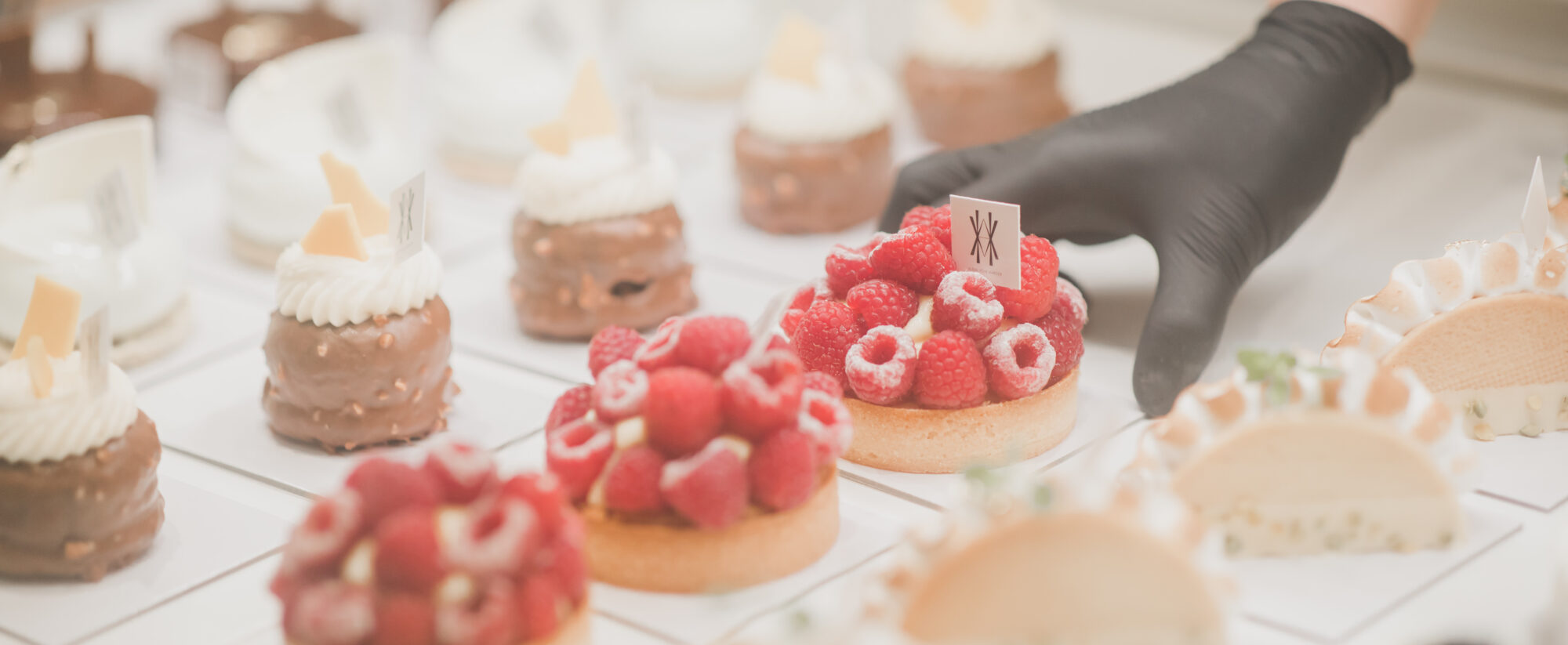 Munich-based ALEXA VON HARDER offers young, cool, creative and innovative patisserie. A feast for the eyes and the palate!
All sweet delicacies are made with real craftsmanship and love in the ALEXA VON HARDER manufacture at the headquarters in Munich-Bogenhausen. In her shop in the Prannerpassage of FÜNF HÖFE – opposite our Magazin store – you can buy a variety from the ALEXA VON HARDER Patisserie to take home or enjoy on the go.
ALEXA VON HARDER at FÜNF HÖFE Munich
See here what ALEXA VON HARDER'S sweet little shop at FÜNF HÖFE offers to you:
Patisserie
Delicious and magical cupcakes, cake pops, macarons and more.
Coffee to go
Treat yourself to a delicious coffee creation or a chai latte to go. ALEXA VON HARDER gets her coffee from the Bavarian roastery "Wildkaffee" from Farchant near Garmisch-Partenkirchen. The principles at Wildkaffee: best quality, sustainable and ecological coffee cultivation and fair coffee purchasing.
Delicious sweets, finely packaged
In the shop you can also get beautifully packaged sweet delicacies from the ALEXA VON HARDER manufacture, such as Mandorlini, Bretoni, Cantuccini …
Cake Shop
In ALEXA VON HARDER'S shop you can also order individual cakes and patisserie for private parties and corporate events, as well as creatively designed wedding cakes.
Be inspired by ALEXA VON HARDER'S cake models or express your wishes and ideas for your very own individual cake design.
ALEXA VON HARDER'S team will be happy to advise you and make models of your own design. The patisserie in Munich Bogenhausen will then produce the desired creation on schedule.
Catering
ALEXA VON HARDER also offers catering with hearty finger food and sweet patisserie for your event. Feel free to inquire about the possibilities in the shop in the Prannerpassage of the FÜNF HÖFE.
Best informed on Instagram
On the Instagram channel of ALEXA VON HARDER you can get visual impressions of all the wonderful creations and find out about the latest news.
The Instagram channel of the FÜNF HÖFE regularly informs you about all the news and events at the FÜNF HÖFE.
See all our bars, cafés and restaurants at FÜNF HÖFE here.
Kardinal-Faulhaber-Str. 11 / Prannerpassage
80333 München
Patisserie
Groundfloor
Mon-Fri 10:00 am - 07:00 pm
Sat 10:00 am - 06:00 pm
Map
Map view:
2D

3D