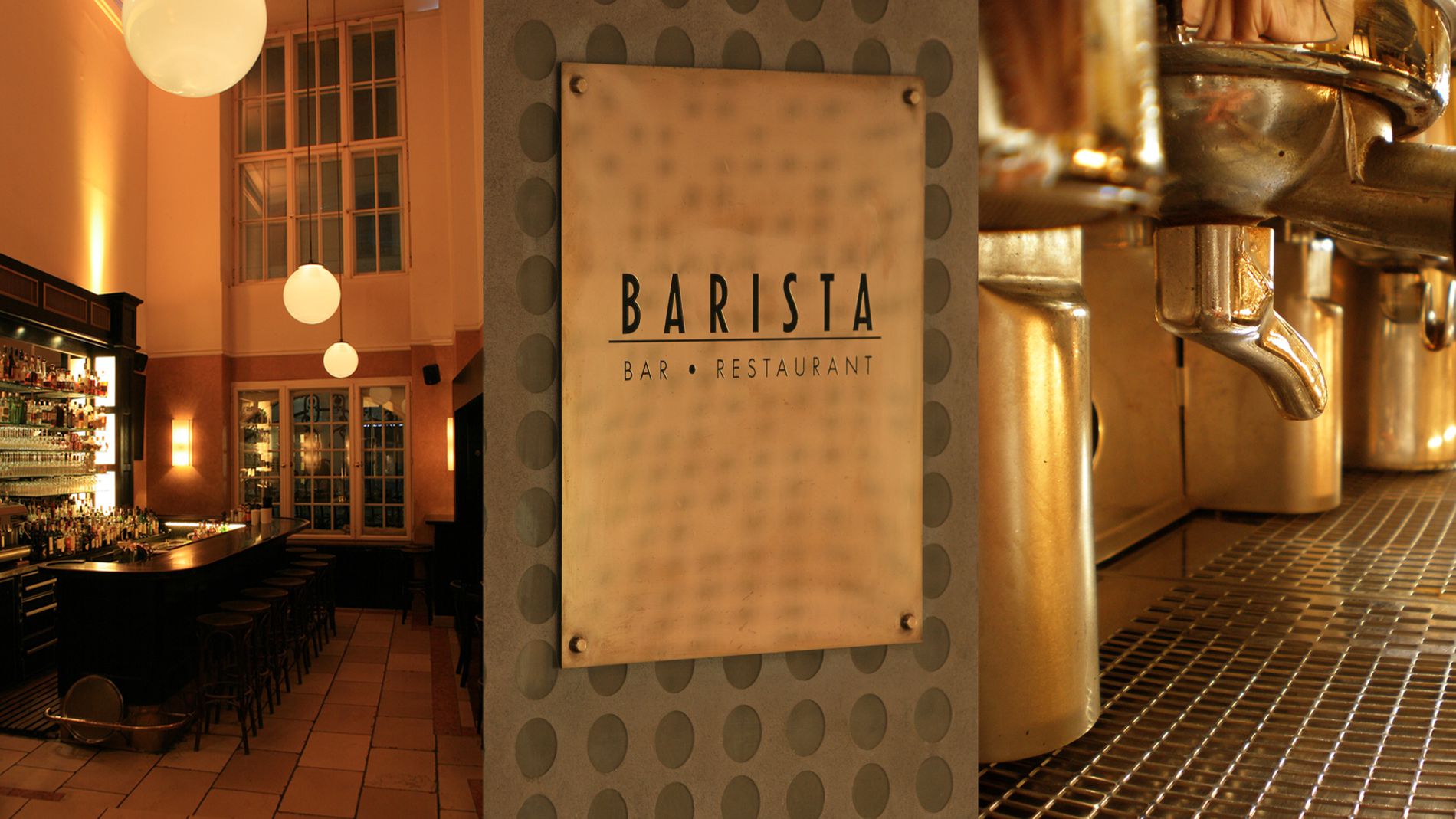 Temporarily closed due to renovation.

Barista Bar & Restaurant Munich
Actually, a "barista" is an expert in coffee. But even though all variations of coffee, from espresso to latte macchiato, are expertly prepared here and taste delicious, Barista Munich at FÜNF HÖFE is much more. The Barista Bar & Restaurant, located directly at the entrance to the FÜNF HÖFE from Kardinal-Faulhaber-Straße, has many faces: during the day it is an oasis of tranquillity for an extensive stroll through the city, in the evening an elegant, small restaurant with a great menu – and at night and on weekends the perfect bar for a sophisticated drink in the heart of the city.
High walls, vaulted rooms, dark wood panelling and dimmed lighting, plus the white liveried barmen who serve their guests in a friendly but discreet manner – Barista Munich is a stylish bar as from a picture-book, the selection of drinks and cocktails is considerable. And the tables outside make a perfect observation post to enjoy a lunch under the open sky on nice days or to let the evening hustle and bustle of the city pass by. If you're into bar ambience, dignified bar culture and quality service with ease and style, this is the place for you.
Delicious food and drink at Barista Munich
The Barista Munich is a bar and restaurant with old building charm and a small menu with delicious international dishes. Those who like to eat meat will also be delighted: Only the highest quality meats are served here, from Spanish Serrano ham to fillet of Argentinian Black Angus beef or beef tartare to New Zealand rack of lamb. Other culinary classics not to be missed: tuna tartare, a variety of pastas and a delicious gateau au chocolat, plus daily changing dishes from the international cuisine.
The Barista Munich – a classic in the centre of town
Wine, classic cocktails, Italian coffee art and grilled meat and fish dishes – all in an architecturally appealing Italian ambience: Barista Bar & Restaurant has long established itself as a fixture in the international ambience of the Bavarian capital. Perfect for after work, before or after a visit to the Bayerische Staatsoper or simply for a short stopover on a shopping tour through the fashion and lifestyle stores of FÜNF HÖFE: With perfection, style, level and quality in the drinks and food, Barista Munich is a small, fine hide-away in the center of Munich city.
Looking for more bars, cafés and restaurants at FÜNF HÖFE? Click here for an overview.
FÜNF HÖFE
Kardinal-Faulhaber-Straße 11
80333 München
Bar and Restaurant
Ground floor
Temporarily closed due to renovation.

Map
Map view:
2D

3D