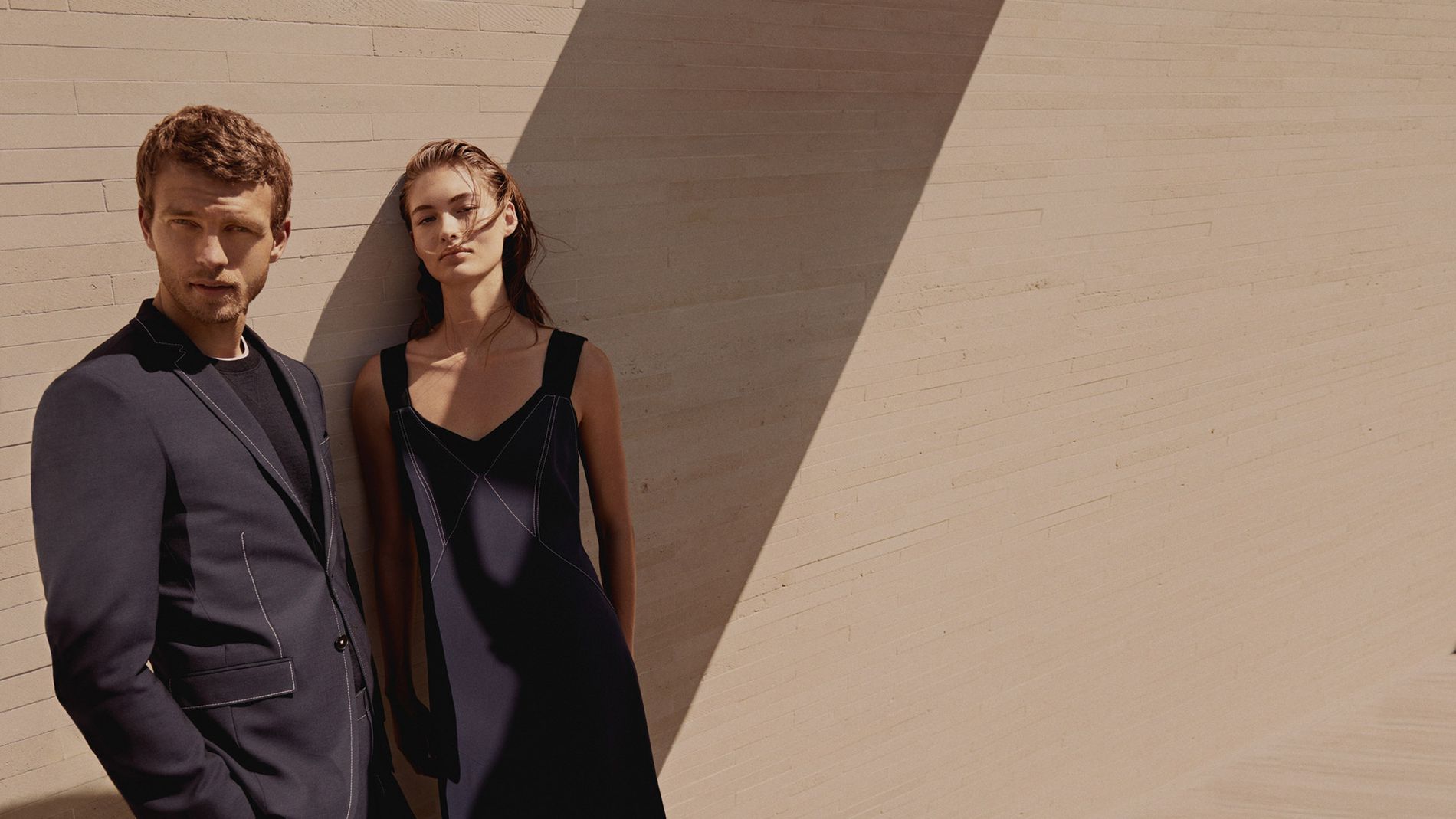 HUGO BOSS Munich
From Maximilianstraße to FÜNF HÖFE – HUGO BOSS Munich opened its flagship store in a new location in June 2018. With this, the designer label presents its fashion on a fully glazed, 558 square metre area on three floors with a new, innovative store concept.
HUGO BOSS Munich is located on Theatinerstraße, directly at the main entrance of FÜNF HÖFE, just a two-minute walk away from Marienplatz, Odeonsplatz, the opera garage and the Hotel Bayerischer Hof – and: in the best neighbourhood with the renowned Kunsthalle Munich, which attracts visitors from all over the world with its top-class exhibitions.
HUGO BOSS Munich: top styles for her & him
Traditional tailoring and a perfect fit make the menswear at HUGO BOSS Munich unmistakable. But the brand's diversity goes far beyond the classic BOSS suit. In the collection, elegant must-haves meet casual looks and sporty athleisure styles – a wardrobe that is as versatile and chic as the man who wears it.
The womenswear at HUGO BOSS Munich always has the right look for the varied everyday life of today's woman, from business styles and leisure outfits to glamorous evening dresses. The focus of the fashion is on precise cuts and classic tailoring. Timeless designs with a modern twist meet elegant leisurewear and together they form the core of the collection. The womenswear effortlessly combines these two facets and stands for carefree ease and elegance.
HUGO BOSS Munich – fashion with class & history
The interior design of the BOSS store is characterised by natural materials, generous seating areas and integrated, warm skylights. Customers should feel as relaxed as at home while shopping and at the same time be inspired by the brand in a variety of ways. If you like the seating and side tables: They come from the French interior design brand Ligne Roset – and you can find a huge and wonderful Ligne Roset store at FÜNF HÖFE as well.
The HUGO BOSS brand
HUGO BOSS, the premium fashion company and at the same time one of the best-known international fashion brands, comes from Metzingen in Baden-Württemberg. High-quality clothing, leather goods and accessories for men, women and children are sold in upscale retail outlets and in the company's own shops worldwide; home goods, perfume and watches are also sold through licensees. The brand develops modern yet sophisticated fashion, a skilful fusion of quality and design. This promise is also kept at HUGO BOSS Munich
FÜNF HÖFE
Theatinerstraße 8
80333 München
Women's and men's fashion, accessories
Ground floor | -1. floor | 1. floor
Mon-Sat 10:00 am - 07:00 pm

Map
Map view:
2D

3D