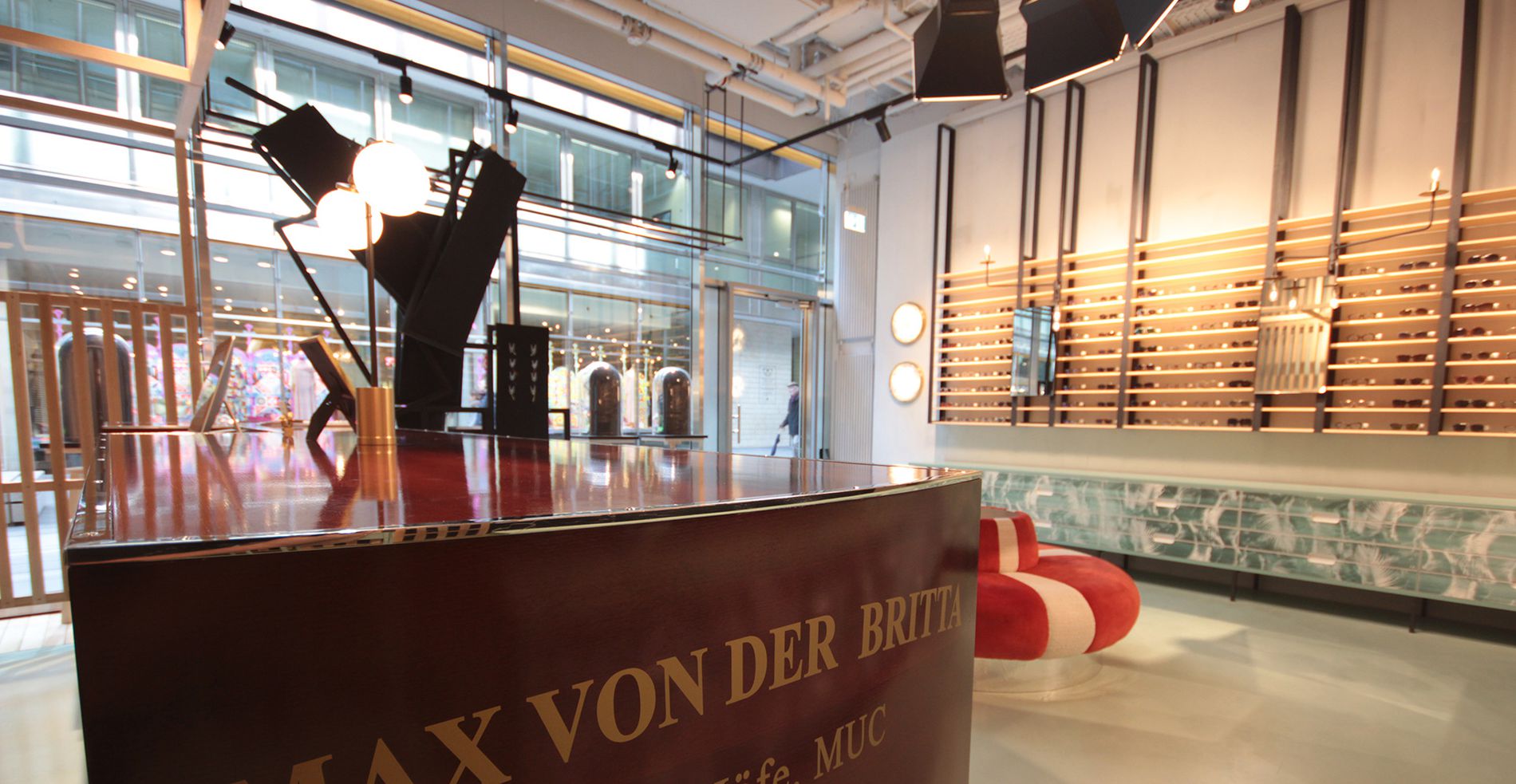 FÜNF HÖFE OPTICIANS MAFFEIHOF
Eyewear & Opticians in Munich
Since 2016, FÜNF HÖFE Optik has a precious store not only in Perusahof, but also in Maffeihof. While the focus at Perusahof is more on sunglasses, the store at Maffeihof is more specialised in corrective glasses and contact lenses. Also legendary are the creative, artistic window displays, which are regularly redesigned and never fail to surprise and delight visitors to the FÜNF HÖFE.
Perfect vision, looking great – at CityQuartier FÜNF HÖFE
At the Maffeihof store, FÜNF HÖFE Optik presents a large selection of exclusive eyewear in a feel-good atmosphere that invites you to linger. You can enjoy a delicious coffee at the ash wood counter styled in the look of the legendary Italian riva boat or rest on the life ring sofa before and while being guided through the collections of over 60 premium brands. The competent staff members make sure that you'll find the glasses model that suits you best among a good 3,000 models.
Every spectacle wearer is different. Therefore, the glasses should also be correspondingly individual. This understanding is the basis for FÜNF HÖFE Optik's constant striving for the best personal advice on the subject of glasses. Because: the right glasses enrich the lives of everyone who depends on a visual aid – whether as corrective glasses or sun protection. Even those who prefer to wear contact lenses instead of glasses will receive the best advice here. The contact lens specialists at FÜNF HÖFE Optik are there for you with all their know-how, detailed advice and the best manufacturers.
Quality through technology
The top priority at FÜNF HÖFE Optik Munich is high-tech, precision and short distances: FÜNF HÖFE Optik has set up a refraction room in the basement of the shop in Maffeihof and equipped it with the latest technology. Here, all the values that opticians need for optimal vision correction are determined. Together with the personal model of your choice – from classic to stylish there is every look – you will not only look stunningly good, but also with 100 percent visual acuity.
And: whether it's professional cleaning, adjusting the fit or ordering spare parts – they'll be happy to look after your glasses in their own workshop. Just drop in, the opticians at FÜNF HÖFE Optik look forward to seeing you!
Click here to have a look at the second FÜNF HÖFE Optik store in Perusahof.
FÜNF HÖFE
Maffeistraße 6
80333 München
Optics and Accessoires
Ground floor
Mon-Fri 10:00 am - 07:00 pm
Sat 10:00 am - 06:00 pm
Map
Map view:
2D

3D