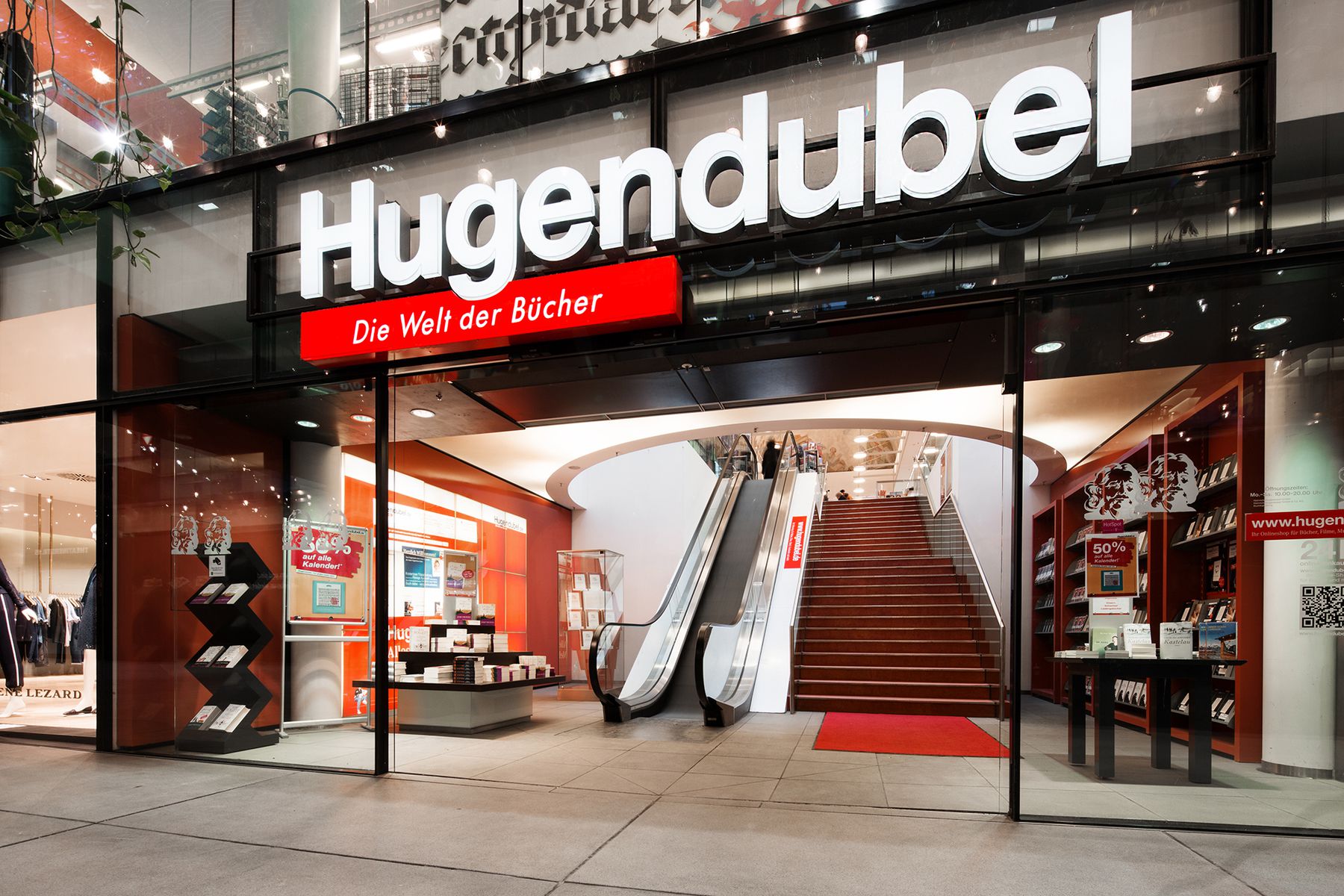 Hugendubel Munich
Books, stationery & accessories
Bookshops are wonderful places for people who love to read. The Hugendubel Bookshop Munich in the CityQuartier FÜNF HÖFE has been such a place since 2011. On 1,250 square metres of space over two floors, there is an enormous selection of books and audio books in all categories, as well as DVDs, games, stationery and magazines, calendars, accessories and gifts. The largest part of the bookshop is a large, clearly structured hall under an impressive ceiling fresco by Hermann Kaspar with countless works to rummage, scroll and browse through – an inspiring living atmosphere full of stories and an environment that invites you to linger. In addition, Hugendubel Bookshop Munich is focusing on the future of digital reading: the Tolino eBook Reader and the new tablets are ready to try out.
Reading is beautiful!
The Hugendubel bookshop at FÜNF HÖFE Munich stands for the company's claim to offer the best selection and the best advice. Through carefully thought-out pre-selection, Hugendubel creates orientation for the customer at FÜNF HÖFE, top trained booksellers offer individual and competent advice on the spot. The staff know most of the books because they have read them themselves (on a special table you will always find up-to-date personal recommendations from the staff), and usually know immediately where to find which book. And if a book is not in stock, you can order it and usually pick it up the next day in the branch – of course also for viewing, without obligation to buy.
Interesting readings with current authors, theme evenings or lectures also take place regularly at Hugendubel at FÜNF HÖFE. You can find the current dates directly on the Hugendubel website, with the option of ordering tickets directly.
Hugendubel Bookshop Munich – History obliges
With more than 100 branches throughout Germany as well as Hugendubel.de, eBook.de and Hugendubel Fachinformationen, the Hugendubel Bookshop Munich is one of the largest owner-managed bookselling companies in Germany. As a traditional family business in its fifth generation, it is clearly committed to books and is also a strong advocate of the multi-channel strategy: the dovetailing of online, digital and branch business in the book trade. Hugendubel is a co-initiator and co-founder of the successful eReader Tolino. Founded in Munich in 1893, Hugendubel Buchhandlung München now employs around 1,700 people across Germany.
Are you looking for a special magazine and haven't found it at Hugendubel? Take a look at the FÜNF HÖFE press centre.
FÜNF HÖFE
Theatinerstrasse 11
80333 München
Books, stationery and accessories
Ground floor
Mon - Sat 10:00 am - 08:00 pm

Map
Map view:
2D

3D