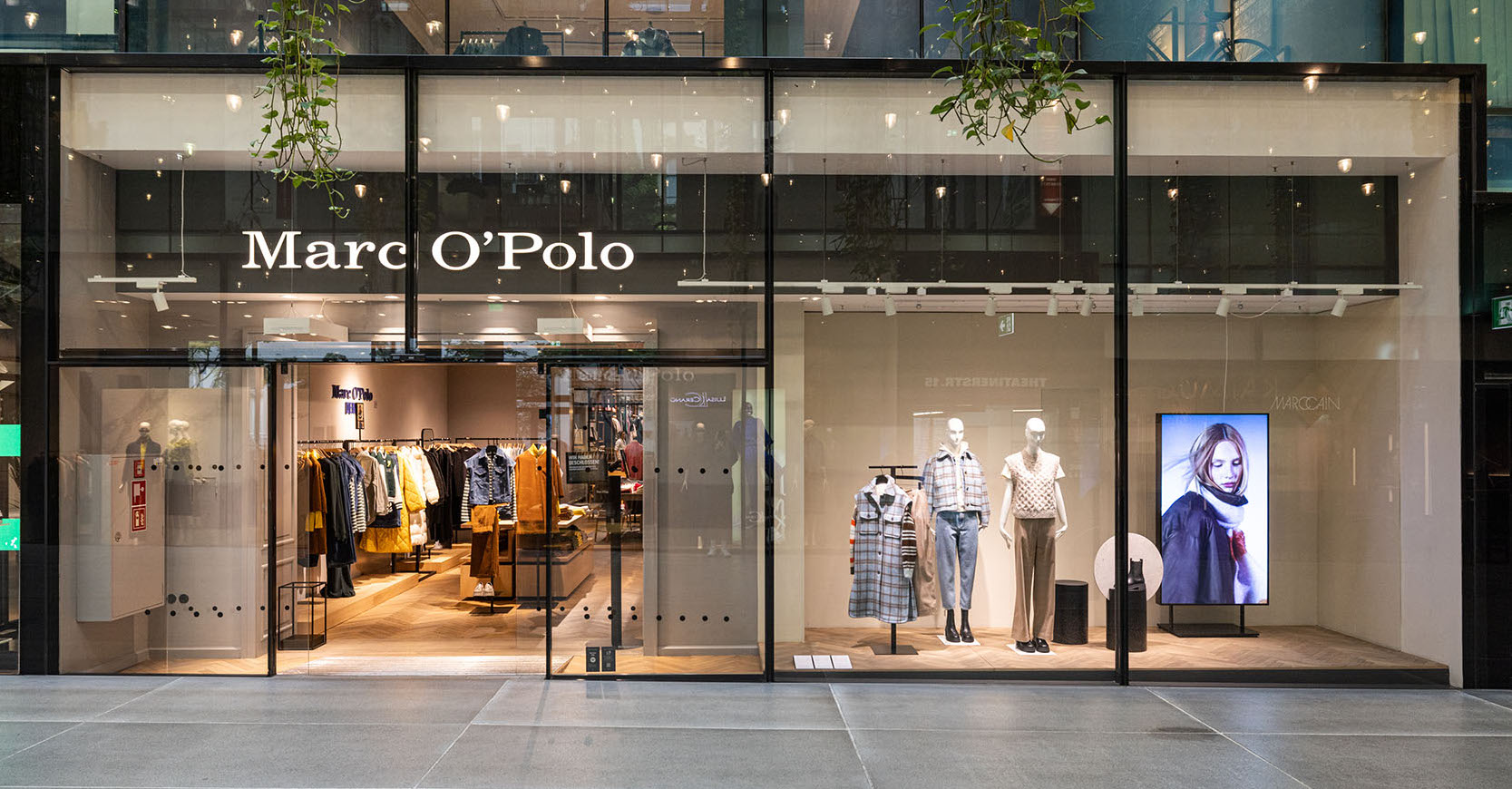 Marc O'Polo Munich
The flagship store of Marc O'Polo in Munich at FÜNF HÖFE extends over two floors and offers women's and men's fashion, shoes and accessories – such as belts, bags, sunglasses, scarves, shawls, small leather goods … – on a total area of more than 900 square metres. It can be accessed from Munich's Theatinerstraße as well as from the Salvatorpassage inside FÜNF HÖFE. The women's fashion department is on the ground floor, while the men's department can be found on the upper floor.
Marc O'Polo Munich – modern, urban, casual
Marc O'Polo Munich offers premium modern casual wear and combines modern design with Scandinavian spirit. The high demand for quality and the special preference for natural materials such as silk, cotton, linen and wool characterise the casual style of the brand. Flawless workmanship, great attention to detail, trendy colours as well as comfortable, uncomplicated fits and a high degree of combinability of the collection pieces define the Marc O'Polo look: natural, modern, urban and casual – high-quality casual wear with its own style. Follow Your Nature stands not only for the use of natural materials, but also for a whole attitude to life. Fashion in reduced design in high quality. Comfortable and for every day. The Marc O'Polo collections are universal and casual trend looks that can be worn everywhere: in the office, in leisure time or for an after-work drink.
Commitment, responsibility, sustainability
Shopping at Marc O'Polo Munich at FÜNF HÖFE is also something men and women can do with a good feeling. The company shows commitment and responsibility for employees and the environment and remains true to its values – naturalness, simplicity, quality, personality and innovation – from A to Z. For many years, Marc O'Polo has been active in the areas of corporate sustainability, social and ecological commitment as well as art and culture.
The Marc O'Polo History
The fashion label Marc O'Polo was founded in Stockholm in 1967 by the Swedes Rolf Lind and Göte Huss and the American Jerry O'Sheets and offers clothing and accessories for men, women and children. The German subsidiary Marc O'Polo Deutschland was founded in 1968 by Werner Böck with headquarters in Stephanskirchen in the district of Rosenheim and has been the company's headquarters since 1997. Today, Marc O'Polo is represented in over 30 countries and employs almost 1,800 people from over 40 nations. In the "Modern Casual Premium" segment, eight collections are offered annually and 2,158 stores and retail partners are supplied.
You can discover even more FÜNF HÖFE fashion stores here.
FÜNF HÖFE
Theatinerstraße 11
80333 München
Women's, men's and children's fashion, accessories
Ground floor
Mon-Sat 10:00 am - 07:00 pm

Map
Map view:
2D

3D