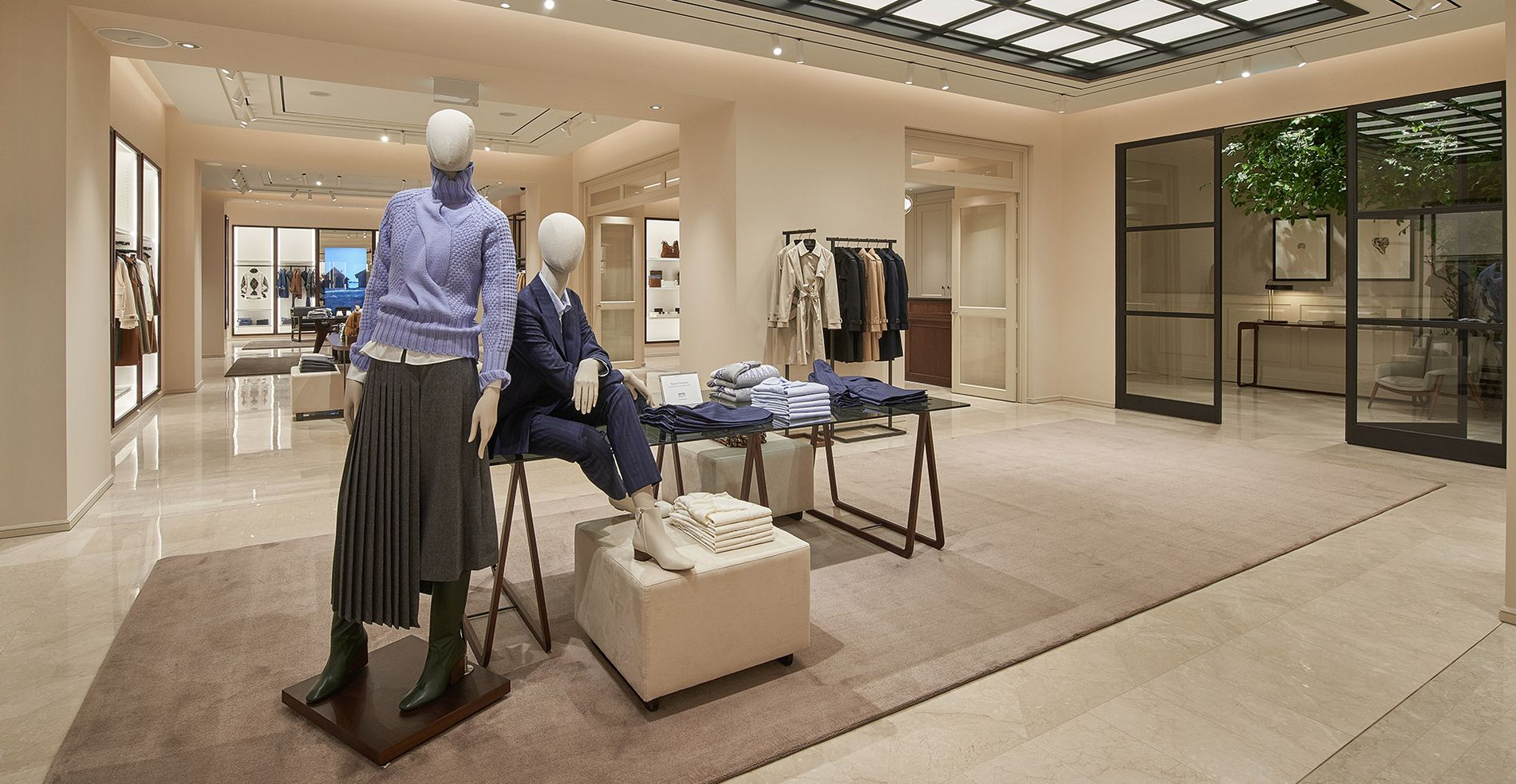 Massimo Dutti Munich
The Massimo Dutti fashion brand stands for trendy and wearable women's and men's fashion and accessories with style – at affordable prices. Fine textures, high-quality natural fibres such as wool, silk and cashmere, as well as innovative processing methods guarantee a flawless look and the greatest possible comfort. Timeless collections from classic to sporty-elegant inspire the urban clientele also at Massimo Dutti's Munich store. This means quality and exclusivity in design and a place where personal advice is a priority.
Massimo Dutti in Munich – for women & men
In 2018, the existing high street store at Munich's Theatinerstrasse was significantly enlarged, extended to two floors and developed with the most advanced eco-efficient concept of the Inditex Group. The store now combines fashion and art, surprising services and innovative technologies to make shopping as beautiful, comfortable and efficient as possible for the customer.
The new interior concept in the Massimo Dutti Munich store creates a sophisticated ambience with simple designer furniture, artistic wallpaper, soft colours and refined lighting design. Special collections, some of which are unique in Germany or even worldwide, turn the clothes into sought-after it-pieces.
Exclusively at FÜNF HÖFE: Limited Editions
On the ground floor of the Massimo Dutti Munich store you will find the Massimo Dutti women's collection, with special limited editions and the "Munich Selection", which is only available at FÜNF HÖFE Munich. On the 1st floor, customers will find the men's collections, including a Personal Tailoring Collection that can be tailored to perfection. In addition, there are various limited editions, such as the "Travel Collection" and a "Munich Selection". Those who appreciate personal attention will be delighted with the exclusive style advice service: specialised staff will devote themselves intensively to individual advice on request and by appointment.
New technologies for the perfect shopping experience
At interactive mirrors, customers can be inspired by the collections via touchscreen, search for items, check availability in the store or even order them home via barcode scan using the Massimo Dutti app. In the changing rooms, touchscreens provide information about the garments, they can be requested in other sizes or colours from the dressing room – or a member of staff can be called to the dressing room for advice at the touch of a finger. On request, the system will also suggest matching garments, accessories or alternatives. The place-to-be for fashionistas: Massimo Dutti in Munich.
Fashion meets art & literature
The first TASCHEN art book library in Munich is located on the first floor: selected copies are available for browsing and can also be purchased here. The staircase is decorated with a collage-like installation by Natalie Loher, an artist and ceramist born in Munich and currently living in London.
More stores for women's and men's fashion? Click here for an overview.
FÜNF HÖFE
Theatinerstrasse 8
80333 München
Women's, men's and children's fashion, accessories
Ground floor
Mon-Sat 10:00 am - 08:00 pm
Map
Map view:
2D

3D