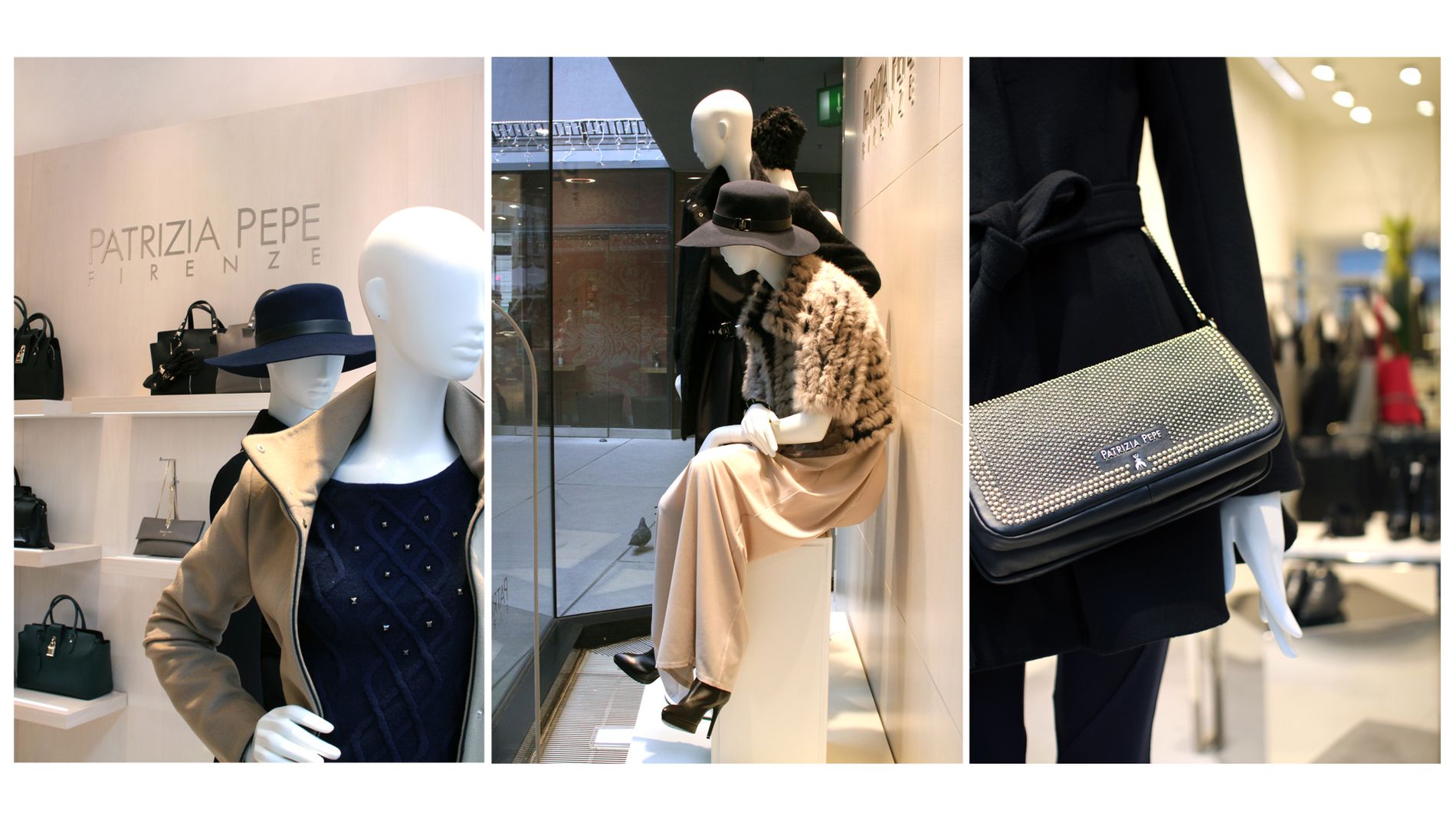 Patrizia Pepe Munich
The Patrizia Pepe Munich boutique at FÜNF HÖFE shoppingcenter in Munich city is a place where excellent taste, sophistication, style and quality have their home. The fashion is sophisticated and typically Italian. The shop's architectural design and furnishings reflect the minimalist and cool concept that also characterises the collections. But a warm light surrounds the customer as soon as she enters and underlines the preciousness of the clothes and accessories.
Patrizia Pepe Munich – in the heart of the city
Patrizia Pepe was born in Florence in 1993 from Patrizia Bambi's passion for fashion and Claudio Orrea's entrepreneurial spirit. Thanks to minimalist shapes and a careful eye for detail, the brand succeeds in combining functionality in everyday's life and elegance for special occasions. The style of the designer brand underlines the harmony of femininity, the style of a sensual woman with a strong character who also seems a little wild. At Patrizia Pepe Munich you can enjoy refined collections – mainly with slim silhouettes combined with subtle colouring and elaborate details. Dynamic, stylish, but also always a little bit rocky. The refined collections are the result of constant research to ensure the best quality in materials and workmanship.
Patrizia Pepe – always on trend
Patrizia Pepe has the ability to create cult clothing in a very short time, which has an undisputed originality and remains recognisable as "typically Patrizia Pepe" for years to come. The label is constantly completing and enriching its range – the brand's stylish fashion collection now includes a men's, girls' and an underwear collection, since 2009 also its own beachwear line and since 2014 an accessories line, which is also available at Patrizia Pepe Munich in addition to the ladies wear collections.
How a name comes about …
Why isn't the label actually called "Patrizia Bambi"? The co-founder and art lover wanted to add a word to her name that characterised her design as much as the look of the woman she dressed. Something that signalled confidence and strength. When she opened a dictionary at random, it said "Pepe", meaning "pepper". She found it to be accurate. Today, Patrizia Pepe operates more than 100 monobrand shops and 1,300 outlets worldwide, including the Patrizia Pepe Store in Munich, exclusively at FÜNF HÖFE.
Shop more international fashion at FÜNF HÖFE.
FÜNF HÖFE
Theatinerstraße 12
80333 München
Women's fashion and accessories
Ground floor
Mon-Fri 10:00 am - 07:00 pm
Sat 10:00 am - 06:00 pm
Map
Map view:
2D

3D