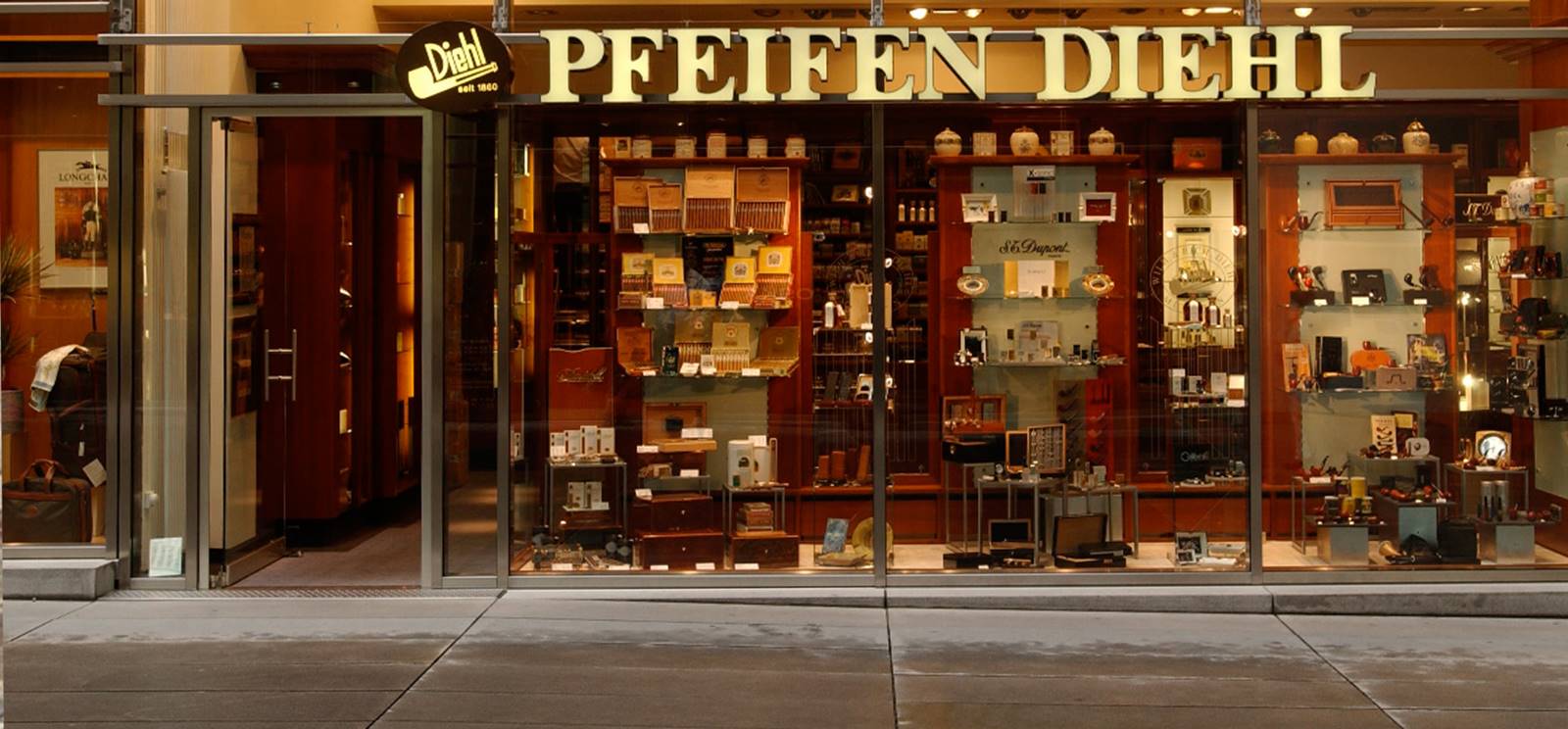 PFEIFEN DIEHL MUNICH
Pfeifen Diehl Munich has been one of the leading pipe and smoking goods specialists for 150 years, including its own tobacco blends and repair service.
The assortment includes pipes of all well-known brands, even the most unusual wishes are fulfilled in the company's own manufactory, and the tobacco bar contains more than 300 types of tobacco, including many of the company's own blends. Cigars and cigarillos from Cuba, the Dominican Republic, Honduras and many other regions mature in the walk-in humidor. Pfeifen Diehl Munich also has the status of "Davidoff Depositary" and "Havana Specialist" and stocks one of the largest Dunhill pipe collections in the world. Of course, you will also find an exquisite selection of decorative humidors for the home.
Accessories for Gentlemen
Pfeifen Diehl Munich is also the place to go if you are looking for a tasteful accessory for the gentleman with a sense of tradition: briefcases, small leather goods, games, playing cards, smoking utensils, silver articles from Sillem's, lighters and writing implements (for example from S.T. Dupont), cufflinks, the highest quality shaving culture from Mühle, selected whiskeys, gin, fruit brandies and much more. In addition, there is the entire Davidoff range and – in the Diehl Exclusiv store right next door: ladies' handbags, briefcases and the noble luggage by Longchamp-Paris, plus fine bags by the manufacturers Albert Pattermann Vienna, Maison Pourchet Paris and Texier Paris.
Precious gifts, high-quality luxury goods
It all began in 1860 in an ivory turning shop. The high art of shaping the most incredible gifts from ivory was the origin of the "Wilhelm & Richard Diehl" manufactory. Its founder Wilhelm Diehl saw himself as an ingenious entrepreneur in the manufacture of chess and roulette games, precious amber jewellery and expensive set pipes from his own workshop – the forerunners of today's pipes from Pfeifen Diehl Munich. The reputation of high-quality luxury goods soon spread around the world – even Buffalo Bill, Hans Albers and Ludwig Thoma bought the noble products from the house of Diehl.
Pleasure and service at Pfeifen Diehl Munich
In 1896, the confectionery company "Wilh. & Rich. Diehl" imported the first English pipes, in 1912 they advanced to become the first central Dunhill authority in Germany and from the 1970s onwards their own tobacco creations, cigar, cigarillo and pipe series expanded the range, which is available today at Pfeifen Diehl Munich at CityQuartier FÜNF HÖFE. Pfeifen Diehl Munich is still owner-managed, today by Helmut R. G. Diehl.
You can get a small overview of the assortment on the Pfeifen Diehl Munich website.
FÜNF HÖFE
Maffeistraße 6-8
80333 München
Leather goods and pleasure
Ground floor
Mon-Sat 10:00 am - 07:00 pm

Map
Map view:
2D

3D