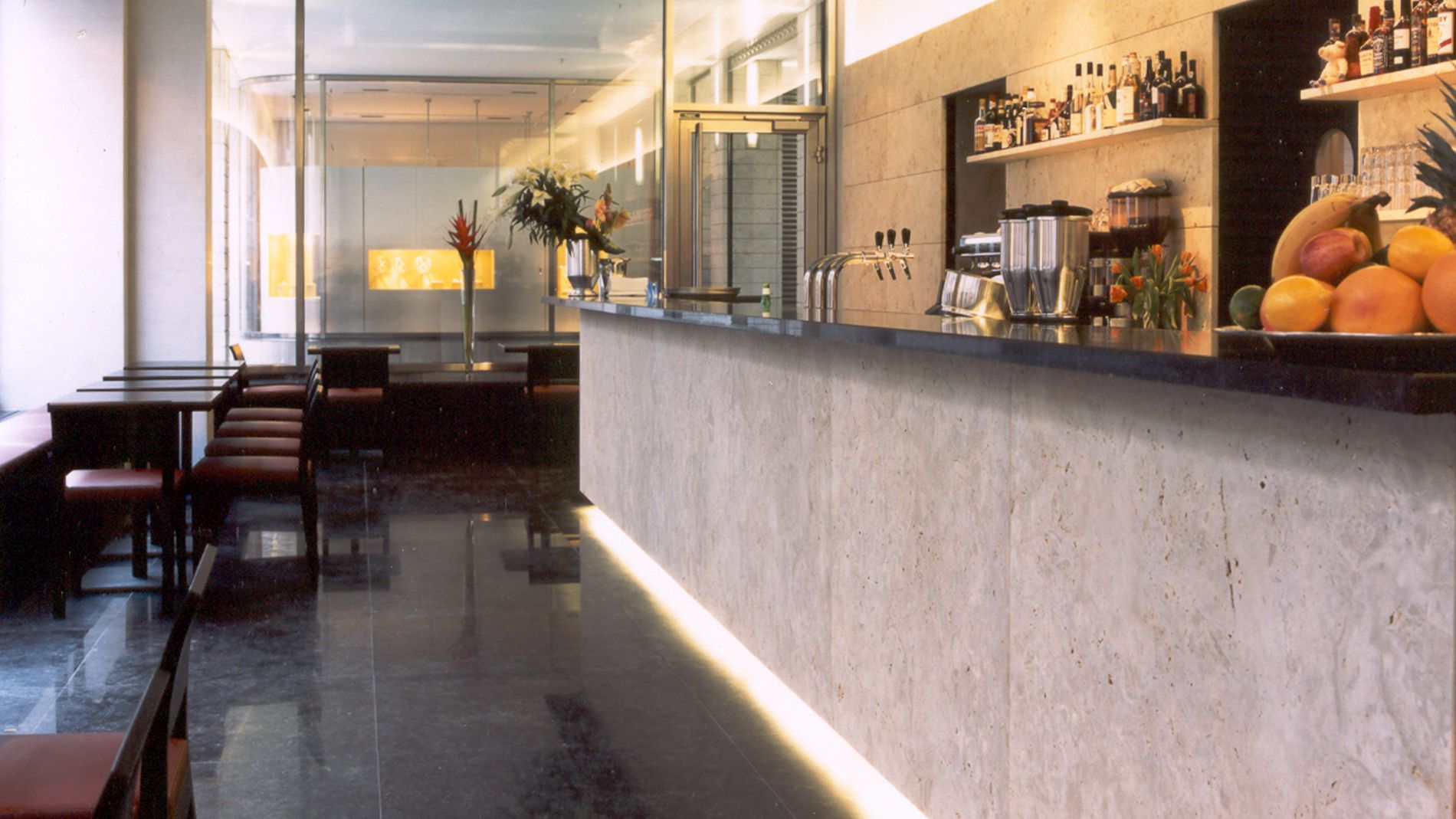 Schumann's Tagesbar
"Seeing and being seen" is the motto at the simply and elegantly designed Schumann's Tagesbar Munich in Maffeistraße. Whether as a café bar, meeting place before work, for lunch or an aperitif – Schumann's Tagesbar is a hotspot with a diverse, mostly Munich-based clientele and the perfect address to sip a cappuccino in the morning before the office or before a stroll through the city, to toast a successful shopping trip or the conclusion of a contract during the day, to have a bite to eat or to settle down for a perfectly mixed aperitif after work. Schumann's Tagesbar is the kind of international bar that every big city should have. And the FÜNF HÖFE are a perfect place for it.
Relaxed atmosphere: Schumann's Tagesbar Munich
As soon as you walk through the door, you are greeted by the gentle murmur of the guests. Subdued lounge music plays in the background and the professional team always has everything under control. No wonder, because in Schumann's Tagesbar at FÜNF HÖFE, no one less than Charles Schumann "rules". He is probably the nation's best-known bar virtuoso and one of the best, most interesting and most successful of his guild. And it doesn't matter what drink you order here – it's best to rely on the staff's recommendations: take the first sip and the taste experience is perfect.
Charles Schumann – a legend among barmen
Charles Schumann was born as Karl Georg Schumann in the Upper Palatinate in 1941, left the Episcopal Grammar School in Regensburg at 17 and joined the Federal Border Guard. He trained as a consular secretary in the Foreign Office and then attended a hotel management school in Switzerland. At 30, he moved to the south of France, worked in various clubs and nightclubs. And in 1973, he returned to Munich as "Charles", caught up on his A-levels, enrolled at university for politics and journalism and became a bartender at the legendary Harry's New York Bar. He had found his place. In 1982 he opened Schumann's American Bar in Maximilianstraße, which has now its new home at Hofgarten for years now. Schumann's Tagesbar in Maffeistraße, in the ensemble of the FÜNF HÖFE, has been around since 2001.
Numerous cocktails go back to Charles Schumann or were created in his bar. Among the best-known are the colada variants Swimming Pool and Flying Kangaroo, the champagne drink French 68 and the rum cocktails Leichtmatrose, Schwermatrose and Tiefseetaucher. Of course, you can also order some of these at Schumann's Tagesbar at FÜNF HÖFE.
Even more bars, cafés and restaurants at FÜNF HÖFE.
FÜNF HÖFE
Maffeistraße 6
80333 München
Bar and restaurant
Ground floor
Mon-Fri 08:00 am - 09:00 pm
Sat 09:00 am - 07:00 pm
Map
Map view:
2D

3D