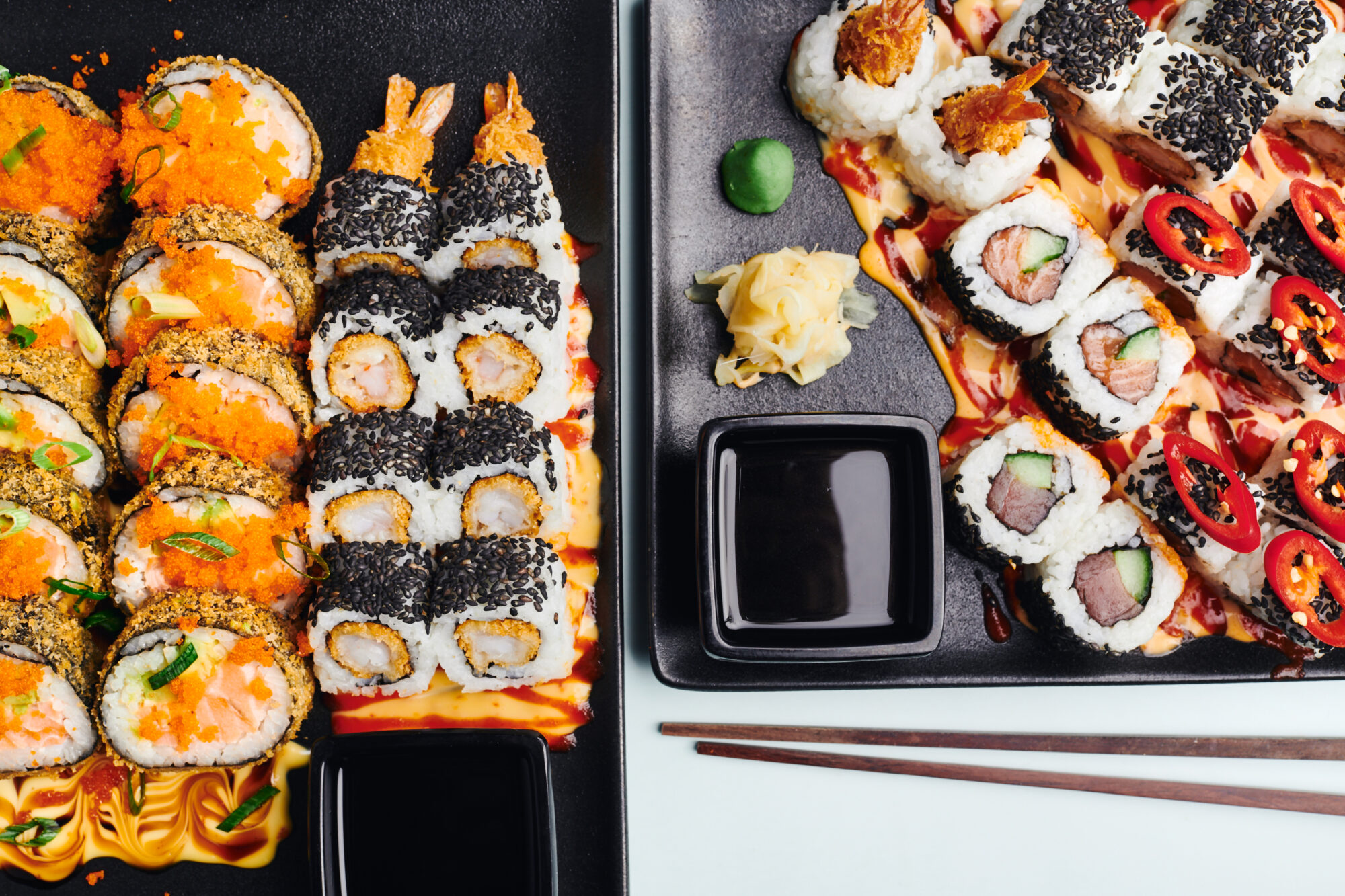 SUSHI TOMO
Sushi Tomo has been in the FÜNF HÖFE since 2020. For three years, the sushi bar was integrated into our Kaimug Thai Restaurant under the Hanging Gardens and delighted their guests with its special sushi creations. Since April 2023, Sushi Tomo now has its own restaurant in the Maffeihof.
Sushi Tomo FÜNF HÖFE Munich
Sushi Tomo is only available once in Munich – at our CityQuartier FÜNF HÖFE. And there is only one other Sushi Tomo restaurant in Germany: in Berlin.
You find Sushi Tomo between the fashion stores OSKA and Nicole Mohrmann in our Maffeihof. Here you can enjoy delicious sushi and more in the modern Japanese ambience inside the restaurant or outside on the benches in the open air.
Quality and freshness – traditional and newly created
Are you looking for a healthy snack or a nice place to eat during your lunch break? Sushi Tomo offers traditional Japanese sushi as well as wacky and hip modern sushi creations. All creations are prepared daily on site from fresh, high-quality ingredients.
Rolls, nigiri, sets, bowls and more
In addition to classics such as Salmon Maki, Tuna Maki or Avocado Maki, Sashimi and Nigiri variations, there are also modern sushi creations such as Tomo Fancy with salmon, surimi, avocado d masago with fancy sauce, Spicy Tuna or Spicy Salmon with chilli sauce and chilli mayo, Golden Double Crispy Shrimp with double crispy shrimp, cream cheese and avocado, cucumber and masago with golden sauce – and many other delicious variations and sushi sets. In addition, there are various bowls and Japanese specialities, such as Chicken Teriyaki Bento or Buta Shogayaki Don – pork belly strips with intense ginger flavour and rice. A variety of side dishes – from classics like edamame and wakame salad to Chuka Ika Ansai (squid salad with sesame seeds) – round off the menu and leave nothing to be desired.
All dishes are also available to take away. Perfect for the office or after work, when you don't feel like cooking yourself.
Come by, let us spoil you and enjoy! The Sushi Tomo team is looking forward to seeing you!
Would you like to see what other restaurants, cafés and bars there are in the FÜNF HÖFE? Please, follow this link.
Maffeistraße 6
80333 München
Sushi Restaurant
Groundfloor
Mon-Sat 10:00 am - 10:00 pm
Map
Map view:
2D

3D