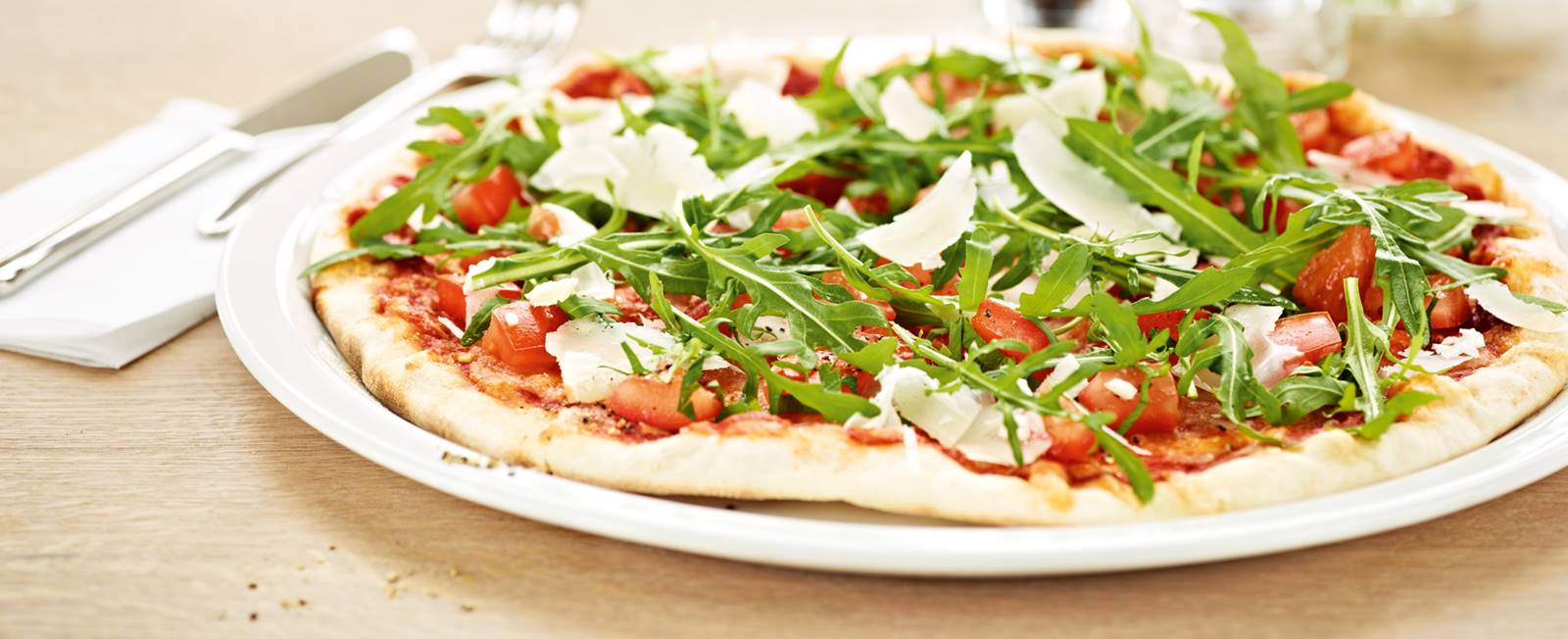 Reopening in spring 2021
 Vapiano FÜNF HÖFE
The Vapiano restaurant in Munich's city centre, centrally located in the CityQuartier FÜNF HÖFE, is the perfect spot for an uncomplicated, delicious and healthy business lunch, a lunch break while shopping or an uncomplicated dinner with friends. You order pasta, pizza, antipasti or salads directly from the chefs and take them straight to your table, freshly prepared.
Freshness is the secret of success
The secret of Vapiano's success is freshness – in the ingredients, in the preparation and in the thinking. In almost every Vapiano worldwide, ten types of pasta and pizza dough are homemade every day, sometimes even in the middle of the dining room, in the glass Manifattura. And in the show kitchen, every pasta dish, every pizza and every salad is prepared individually and "à la minute". A special feature for health-food and low-carb fans: "Zoodles" – noodles made from courgette, which can be combined with all sauces just like "normal" pasta.
Individual and personal: Front Cooking
With this innovative front cooking concept, guests can choose from the varied menu and then tell the chef their preferences and wishes directly at the counter during preparation and also choose the pasta shape themselves for each pasta dish. This is how personal favourite dishes are conjured up, which can also be easily adapted to alternative diets. Even customers who follow a vegetarian or vegan diet or have a food intolerance will find what suits their personal requirements at the Vapiano FÜNF HÖFE restaurant, without having to compromise.
Fresh casual dining – at Vapiano FÜNF HÖFE
For guests, Vapiano FÜNF HÖFE means comfort, self-determination and individuality, coupled with fair prices, all in a relaxed and cosmopolitan atmosphere – just like a cosy meal with good friends. You can come to Vapiano FÜNF HÖFE spontaneously for lunch, a delicious latte macchiato in between meals, a relaxed dinner with friends or colleagues or a glass of wine.
Wonderful in summer: the large terrace in the inner courtyard
In all Vapiano restaurants, every guest receives a chip card upon entry, onto which the consumption is booked – the ideal concept for people who want to remain flexible and self-determined, but still don't want to give up quality and freshness. Guests can then enjoy their favourite dish in a relaxed, Mediterranean-style atmosphere: a warm colour scheme, a cosy bar and lounge area and large oak tables characterise the urban feel-good ambience at Vapiano FÜNF HÖFE. And: in summer, a spacious, quiet and leafy terrace on the upper floor spreads a New York atmosphere in Munich.
Here you can find more restaurants at FÜNF HÖFE.
FÜNF HÖFE
Theatinerstraße 15
80333 München
Restaurant
Ground floor
Temporarily closed
Map
Map view:
2D

3D