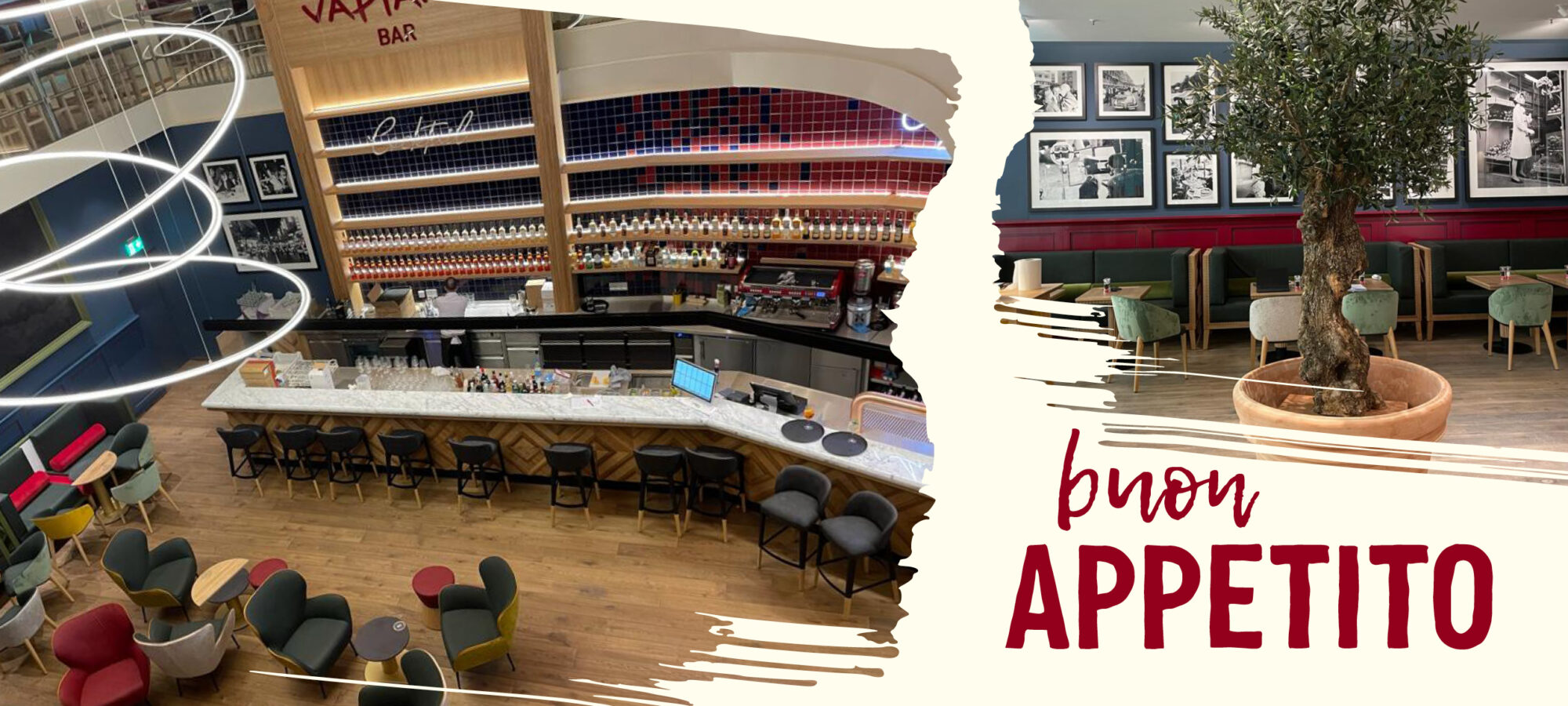 Vapiano Munich
The popular Italian restaurant VAPIANO in Munich's city centre, at FÜNF HÖFE Munich, is the perfect spot for an uncomplicated, healthy business lunch, a delicious lunch break while shopping or a relaxed dinner with friends.
In spring 2021, the restaurant was completely renovated, redesigned and reopened in June. New interior, new menu, new colours, new bar & drinks … and – the best for the end: no more queuing! Instead, you can now enjoy your favourite dish together with your loved ones at your leisure.
Bar downstairs, show cooking upstairs
VAPIANO Munich at FÜNF HÖFE extends over two floors. On the ground floor, a new, relaxed bar experience with full service has been created – without the typical VAPIANO guest menu. So just take a seat and enjoy delicious drinks!
Upstairs is the kitchen and the open-plan dining area with plenty of seating. Upstairs, you can place your order at the central order point with your Vapianisto or at the digital order point itself and register it on your VAPIANO guest card. You will receive a buzzer and can immediately relax at your chosen table. Thanks to a tracking system in the buzzers, your freshly prepared favourite dishes are brought directly to your table.
From pasta to pinsa
Now for the main thing: the food! VAPIANO is known for its delicious, freshly prepared Italian dishes at fair prices and in a variety of versions. Different salads, for example, can be combined with various dressings and extras to create countless variations. New on the menu is the Pinsa romana – the great-grandmother of pizza. Here, crispy, airy dough meets varied toppings – more than a dozen different variations await you at VAPIANO, plus extras of your choice! The sourdough is made in our own factory, the 72-hour maturing time makes it extra digestible. The VAPIANO secret recipe contains only natural ingredients such as water, wheat, rice flour, sourdough, virgin olive oil, salt and fresh yeast. In contrast to the original recipe, soy flour is deliberately omitted. And: You can order the Pinsa gluten-free if you want!
You can also have your personal favourite pasta dish conjured up: you choose one of the seven fresh, homemade pasta shapes and your favourite sugo from more than a dozen different sauces plus extras if desired. Antipasti, risotto, lasagne and dolci round off the culinary offer. Are you vegetarian, vegan or do you have food intolerances? At VAPIANO, you can easily adapt your meal to alternative diets. All kinds of drinks from water, soft drinks and VAPIANO iced tea to beer, VAPIANO wines and prosecco are available.
Summer terrace in the quiet inner courtyard
The beautiful, spacious and quiet inner terrace on the first floor has also been redesigned. Here you can sit in the fresh air amidst lush flowering greenery to relax and enjoy. The perfect Italian break in the city centre – a mix of Bella Italia and New York. Almost like a short trip to Little Italy.
Come by, see for yourself and enjoy a slice of dolce vita.
More restaurants at FÜNF HÖFE.
FÜNF HÖFE
Theatinerstraße 15
80333 München
Restaurant
Ground floor and first floor
Mon-Thu 11:00 am - 11:00 pm
Fri-Sat 11:00 am - 12:30 am
Sun/public holiday 11:00 - 10:00 pm
Map
Map view:
2D

3D