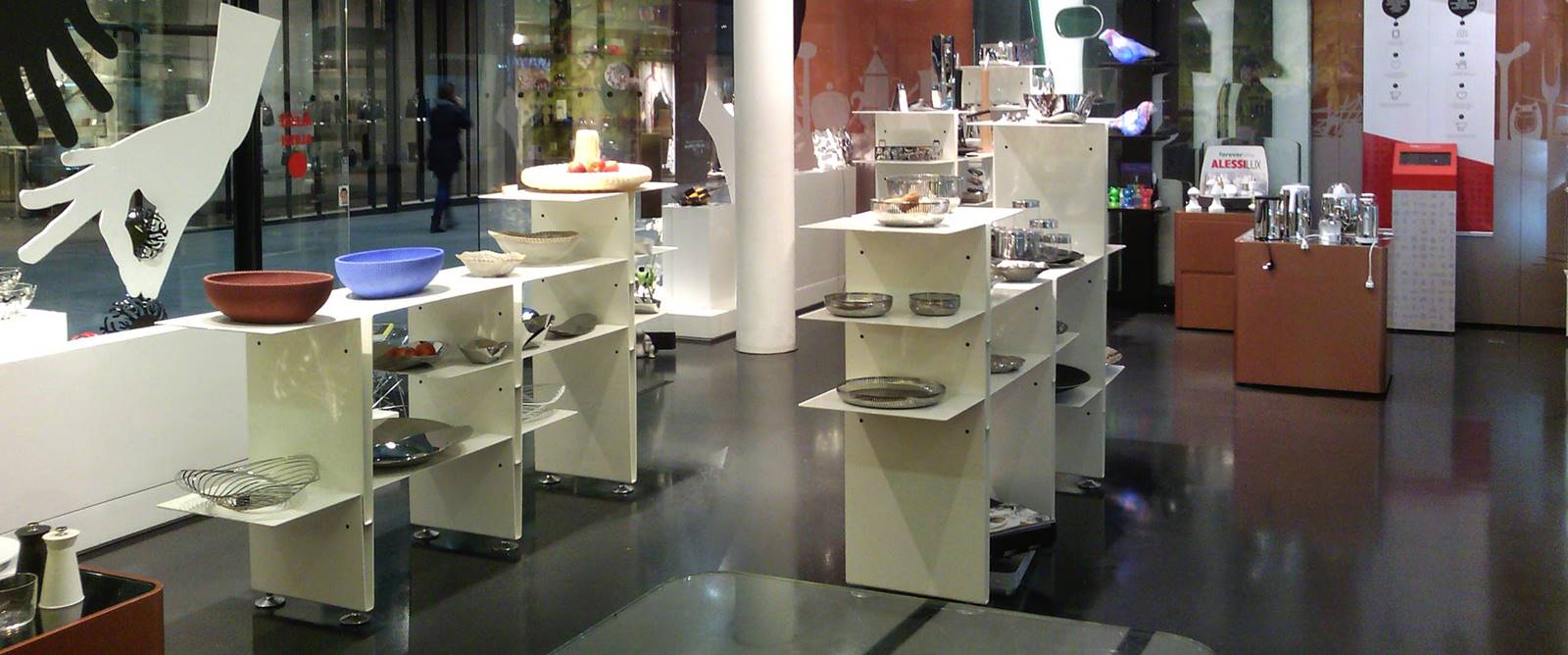 Alessi Munich
Alessi – the name stands for elegant home accessories in tasteful, contemporary Italian design! The programme of the Alessi Munich store at FÜNF HÖFE ranges from modern home accessories to re-editions of Bauhaus design classics, from humorous gifts with function to kitchen utensils, tableware and equipment for the house bar.
Alessi Munich – utility objects as art objects
"A true designer piece must move people, convey emotions, awaken memories, surprise, swim against the tide …", says company founder Alberto Alessi. Thus, renowned international designers have worked and continue to work for Alessi, who also shape the range of products at Alessi Munich at FÜNF HÖFE. Among the most famous Alessi objects are the kettles by Michael Graves and Richard Sapper as well as the lemon squeezer by Philippe Starck.
Alessi Munich at FÜNF HÖFE gives an insight into the entire Alessi world, from well-known classics to extraordinary designer pieces and limited editions, such as the Alessi (Red) Collection, Circus or the beautiful Extra Ordinary Metal Collection.
Stylish gifts
Those looking for a stylish personal gift are sure to find what they are looking for in the Alessi Munich Store at FÜNF HÖFE's Salvatorpassage under the famous Hanging Gardens: Home Fragrances, Jewellery and Accessories, Christmas Decorations, everything for the table from cutlery to glassware, kitchen accessories from kettles to pots and pans, useful items for the bar, from bottle openers to wine coolers. In the Living department you will find beautiful accessories for bathroom, office and the pet. The range of electrical appliances extends from toasters and coffee makers to beautifully designed cordless vacuum cleaners.
Italian tradition & craftsmanship
The origin of the brand is the Italian design factory of Alberto Alessi in Omegna in Piedmont, founded in 1921 by his grandfather Giovanni Alessi and specialised in metal household goods. In 2006, the product range was divided into three brands: "Officina Alessi" is the exclusive brand for unique pieces and limited series with an experimental character in a higher price range. Under the pure label "Alessi" you will find timeless household classics. And "A di Alessi" stands for high-quality products that as many people as possible can afford.
Even more choice …
Interior design at FÜNF HÖFE is not only available at Alessi Munich. You can find more designer styles at Ligne Roset FÜNF HÖFE, Magazin and MUJI. Stylish gifts for men – such as smoking accessories, briefcases, exquisite spirits and classic games like backgammon or chess can be found at Pfeifen Diehl.
FÜNF HÖFE
Theatinerstr. 15
80333 München
Home accessories
Ground floor
Mon-Fri 10:00 am - 07:00 pm
Sat 10:00 am - 06:00 pm

Map
Map view:
2D

3D