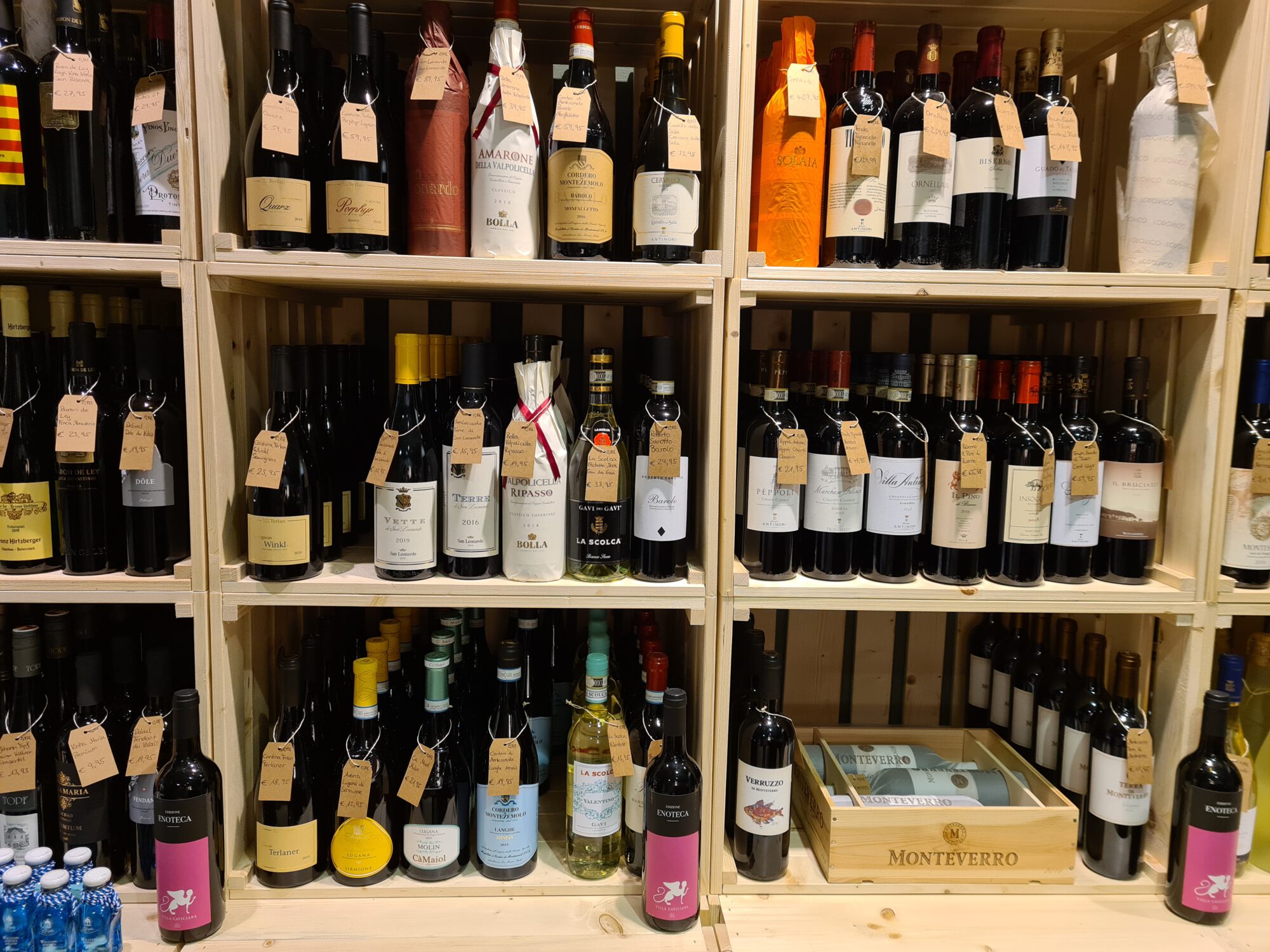 B by Barista – that is the Enoteca of Barista Bar at FÜNF HÖFE Munich. Directly opposite the Barista Bar in the Prannerpassage … next to the jewellery dreams of Geträumte Taten, the makers of Barista have opened a small enoteca – every wine lover's dream. The focus of the wine shop with a small espresso bar is on organic and homemade products as well as selected wines and spirits.
Wines from all over the world
Here you will find wines from all over the world, for every taste and budget – from 10 to 600 euros. Wines can also be tasted on site. In addition, there are some exclusive rarities that you won't find anywhere else: The "Sound of Riesling", for example, comes from their own production, the "Barista Pinotage" was created in cooperation with a restaurant in South Africa.
Spirits from Bavaria
There are also excellent spirits on the plain wooden shelves of the small, fine shop: from Bavarian producers Slyrs at Schliersee and Tegernseer Spirituosen Manufaktur, among others – with specialities like "Bombardino" (egg liqueur) and "Gin Lago" as well as classics like apricot brandy, raspberry brandy, Williams and hazelnut. But there are also non-alcoholic beverages in bottles: the delicious and healthy organic kombucha from the Munich-based company First8Kombucha.
Macarons, muffins & frozen yoghurt
At the bar, fresh macarons, homemade muffins and croissants are waiting daily for strollers or people on their way to the office – for a quick breakfast or for an espresso "on the fly" like in a typical Italian bar. As long as the gastronomy is only allowed to offer dishes to go, B by Barista offers daily changing dishes from the "big sister" Barista Bar to take away, such as Cesar's Salad, sandwiches or the legendary Barista Beef Tartar.
Other highlights for gourmets – as a little treat between meals – are homemade organic frozen yoghurt with various delicious toppings – from raspberry ragout and sweet popcorn to salty pretzels and cashews. Of course, freshly squeezed juices and coffee from their own production should not be missing in such a small delicatessen temple.
Stop by, let yourself be inspired and advised – and enjoy!
FÜNF HÖFE
Kardinal-Faulhaber-Str. 11
80333 München
Ground floor
Mon-Sat 11:00 am - 7:00 pm
Map
Map view:
2D

3D