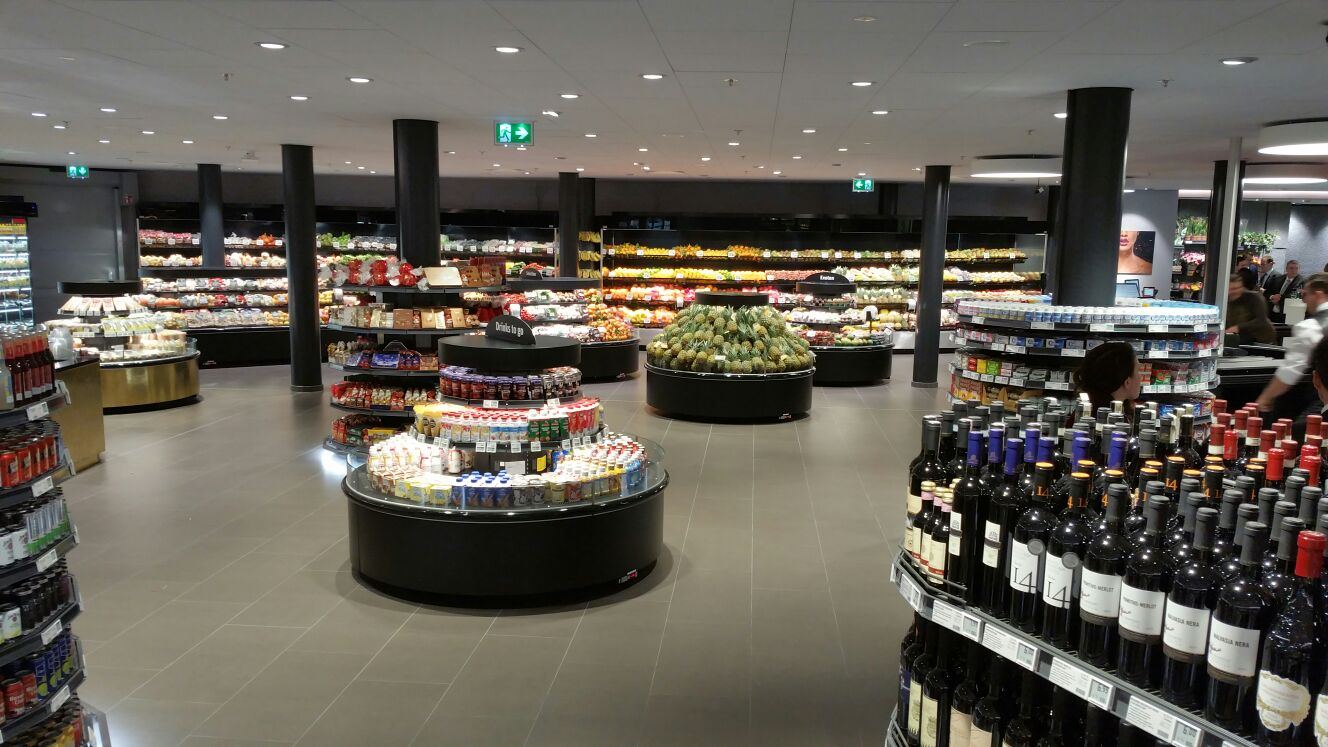 REWE Premium Munich
For some years now, Rewe Premium Munich in the basement of FÜNF HÖFE has been setting new standards for supermarkets in Munich. The shortest way leads from Theatinerstraße to Viscardihof and down between Bar Comercial and Ludwig Beck Beauty, past the Schmidt bakery. Exclusive furnishings, special assortments and a strong convenience and gastronomy component make it a premium market that combines gourmet demands and regionality.
Supermarket of superlatives
The concept of Rewe Premium Munich – not only the only one in the city, but even all over Germany – combines diverse and quality-oriented worlds of enjoyment with a high-quality ambience and a lot of attention to detail. The curved service counter made of granite is 18 metres long. In addition to high-quality meat, regional sausage specialities, cheese and antipasti, fresh fish, caviar and oysters are also available.
In addition to the classic supermarket assortment – adapted to the upscale clientele – every customer will also find something tasty for the lunch break or a snack in between at Rewe Premium Munich. A large salad bar with many different freshly prepared salads and raw vegetables offers everything your heart desires. Also fruit salads are freshly prepared in the store every day. In addition, there are "ready-to-cook" offers made from single-variety vegetables. Freshly prepared Bavarian dishes are available daily at the hot counter. In addition, there are foccaccia, burgers, ox shreds sandwiches, sandwiches and: a big and delicious assortment of sushi, freshly prepared in the market and in front of the customers. And for the evening: a premium range of champagnes – from Moët & Chandon to Champagne D. Rock, which can only be bought here in German retail – whiskey and gin as well as over 400 different wines.
Innovative extras at Rewe Premium Munich
The glass doors in front of the chilled fresh produce and drinks are equipped with a sensor and open and close automatically. Customers can store their purchases in refrigerated lockers and pick them up later. There is also a station, where you can get powerbanks for charging your mobile phone and return them later here or at any other station of this kind. And of course: shopping trolley disinfection papers. Three self-service express checkouts even defuse the rush hour at lunchtime. And there is another special feature: a huge assortment of fresh cut flowers – in bunches or as ready-made bouquets. First-class advice from intensively trained and motivated staff rounds off the exquisite shopping experience at Rewe Premium Munich.
Award-winning
Rewe Premium Munich has already won almost every award that exists in the German food trade – including Store of the Year, Supermarket of the Year, Best Fish Counter, Best Fruit and Vegetable Department or Frozen Star.
FÜNF HÖFE
Theatinerstraße 14
80333 München
Food
Ground floor
Mon - Sat 07:00 am - 08:00 pm
Map
Map view:
2D

3D