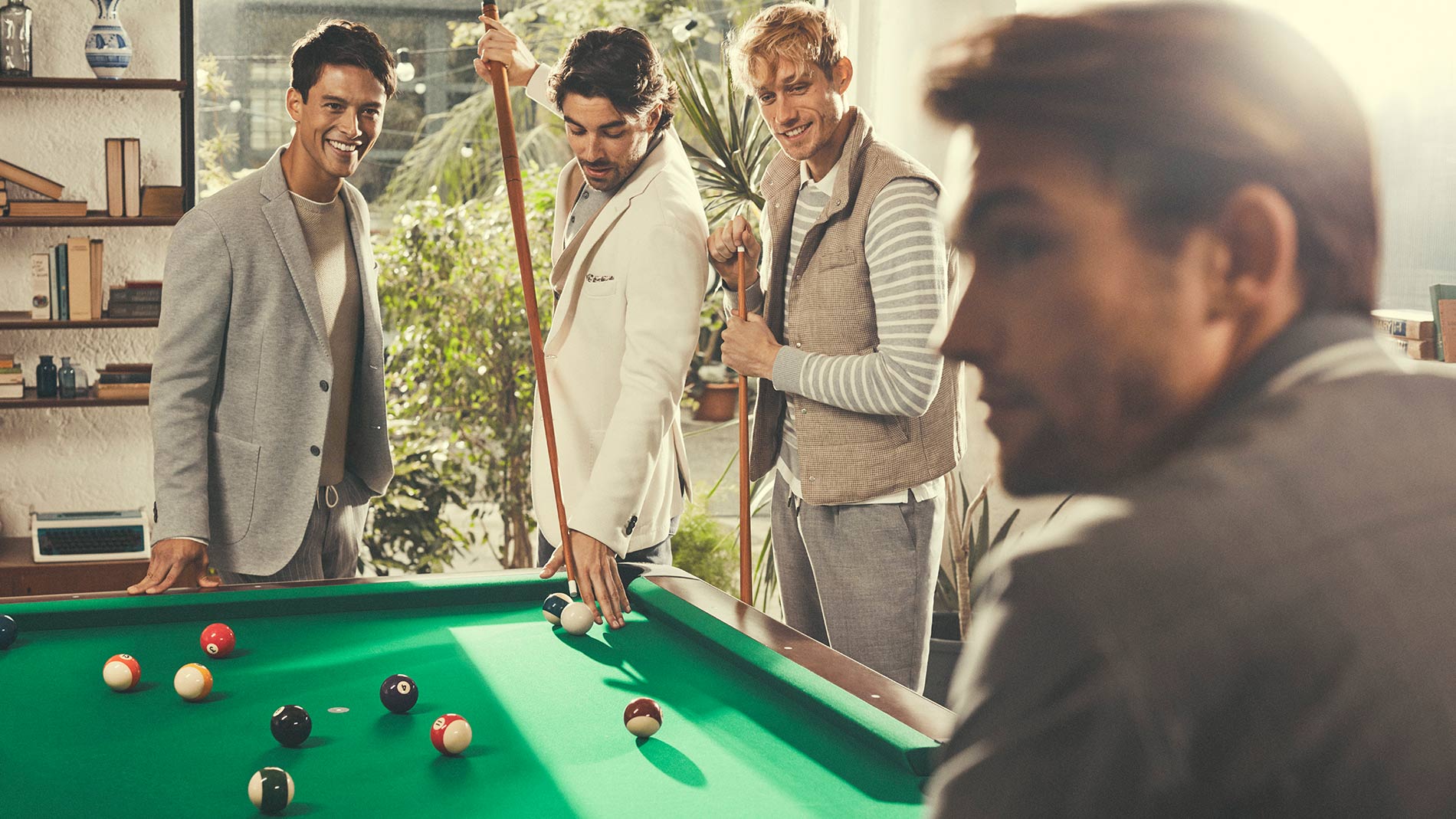 Timeless elegance & masculine design
At Boggi Milano in Munich, timeless elegance meets masculine design. Here, the modern (business) man finds his favourite look for business, leisure and, of course, for sophisticated occasions. A wide variety of materials – skilfully combined and always of first-class workmanship – as well as innovative cuts and well-thought-out details make up the special charisma of the products. Suits, shirts, polo shirts, jackets, pullovers, jeans, knitwear, t-shirts and waistcoats are joined by high-quality shoes and selected accessories such as ties, pocket squares, braces, socks, cufflinks, belts, bags and wallets. And: masculine fragrances make the appearance perfect. This is how the unique Boggi Milano look is put together for all situations in life.
Be a gentleman: Boggi Milano in Munich
A gentleman knows: When you enter Boggi Milano in the CityQuartier FÜNF HÖFE Munich, you get the impression of being part of a very special world where style confidence, professionalism and comprehensive, individual advice come together – in the typically Italian, relaxed way. And anyone who has been there once will confirm: Every subsequent visit to Boggi Milano in Munich feels like coming home!
Italian menswear for cosmopolitans
Boggi Milano in Munich offers a wide selection of high-quality styles with distinctive Italian charisma and first-class quality to the fashion-conscious, cosmopolitan man. The collections are the result of the designer's creativity and experience: a perfect blend of style and fabric quality. In this way, Boggi Milano is able to offer the customer a product that convinces with an excellent price-performance ratio. And: at the Boggi Milano store in Munich, you can also have suits tailored to your exact wishes and requirements. Lining in a special colour, narrow or wide cut, long legs … Boggi Milano makes made-to-measure suits possible at affordable prices.
A brand with tradition
Since 1939, Boggi Milano has been conceiving and designing sophisticated, contemporary men's fashion, including matching accessories. From production to distribution, Boggi Milano takes care of every single aspect itself to ensure the high quality and distinctive style that is attributed to the brand on an international level. Worldwide, Boggi Milano produces two million items a year and sells them all over the world – in over 140 shops in more than 31 countries.
Bella Italia at FÜNF HÖFE
By the way: if you love Italian fashion, you'll be happy to know that FÜNF HÖFE have four Italian restaurants under one roof: Barista , Bar Comercial, Emporio Armani Caffè and Vapiano. Perfetto, no?
FÜNF HÖFE
Theatinerstraße 8
80333 München
Men's fashion, accessories
Ground floor
Mon-Fri 10:00 am - 07:00 pm
Sat 10:00 am - 06:00 pm

Map
Map view:
2D

3D