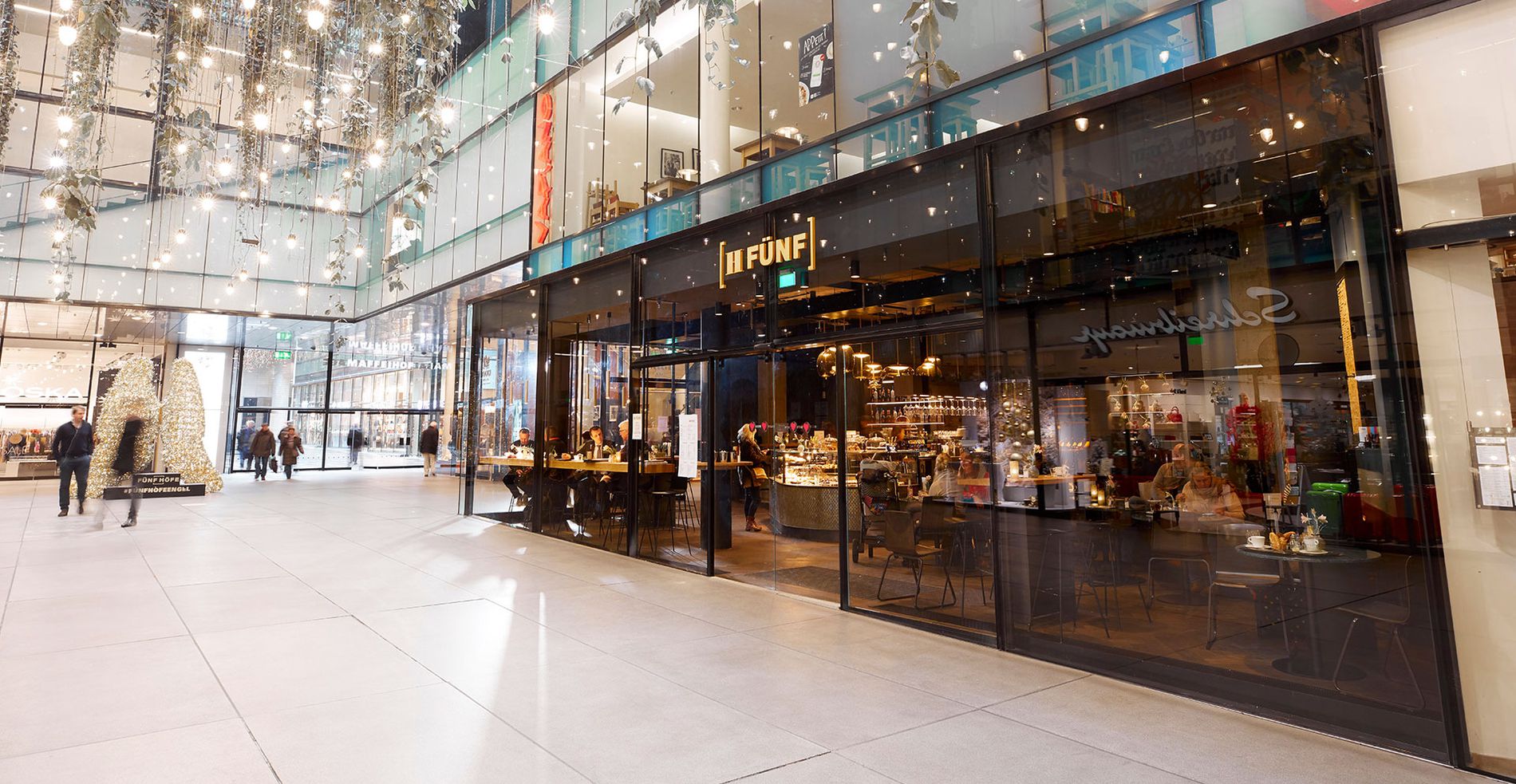 H FÜNF Coffee Bar
Enjoyment from early to late: changing everyday habits demand innovative concepts in gastronomy. But even if the pace of society is fast, you don't have to do without good service, freshness and quality. A new-generation eatery is the H FÜNF Café Munich, where you can feast and enjoy every day from early in the morning until late in the evening, even if you're in a hurry. Whether it's a morning breakfast or a warm midday snack, coffee and cake in the afternoon, aperitivo at "blue hour" or exclusive drinks in the evening: the H FÜNF offers versatile enjoyment for the most diverse needs – and in a prominent position directly at the Plaza of the FÜNF HÖFE.
The food menu: focus on quality and variety
The international menu of H FÜNF Café Munich is uncomplicated and at the same time of the highest standard. You can choose between a small or gourmet breakfast, the changing lunch menu offers delicious meat and fish dishes as well as vegetarian dishes and sandwiches, the Lavazza premium coffee is a delight from early to late, accompanied by delicious macarons, fresh fruit tartes or a delicious piece of chocolate cake. And an aperitivo heralds the end of work alla italiana, perhaps with ham, cheese and an exquisite glass of wine.
In the evening, the bar offers not only fine spirits from an ever-expanding range, but also a selection of high-quality champagnes. Also with homemade lemonades, fresh juices and sparkling non-alcoholics. The nice conclusion of a guest that says everything: "Very cool! Very kind! Very delicious! Well done!"
Relax and enjoy in a beautiful ambience: at the H FÜNF Café Munich
The H FÜNF Café Munich is also a delight in terms of interior design – the dining bar is cosy, chic and modern at the same time. Here you can chat casually at bar tables or on stools at the bar or relax in cosy seating areas. The full floor-to-ceiling glazing of the bar offers a view into the world of FÜNF HÖFE – after all, "seeing and being seen" is part of a successful shopping trip in Munich. Those who prefer to sit outside in summer can settle down at one of the tables in the Portiahof next to Dean & David.
And if all the seats at H FÜNF Café Munich and the open-air area should be taken, there are still the Barista, Comercial, Emporio Armani Caffè, Schumann's Tagesbar or Theatiner 8.
FÜNF HÖFE
Theatinerstr. 15 
80333 München
Bar and restaurant
Ground floor
Mon-Thu 08:00 am - 07:00 pm
Fri 08:00 am - 10:00 pm
Sat 10:00 am - 10:00 pm
Map
Map view:
2D

3D