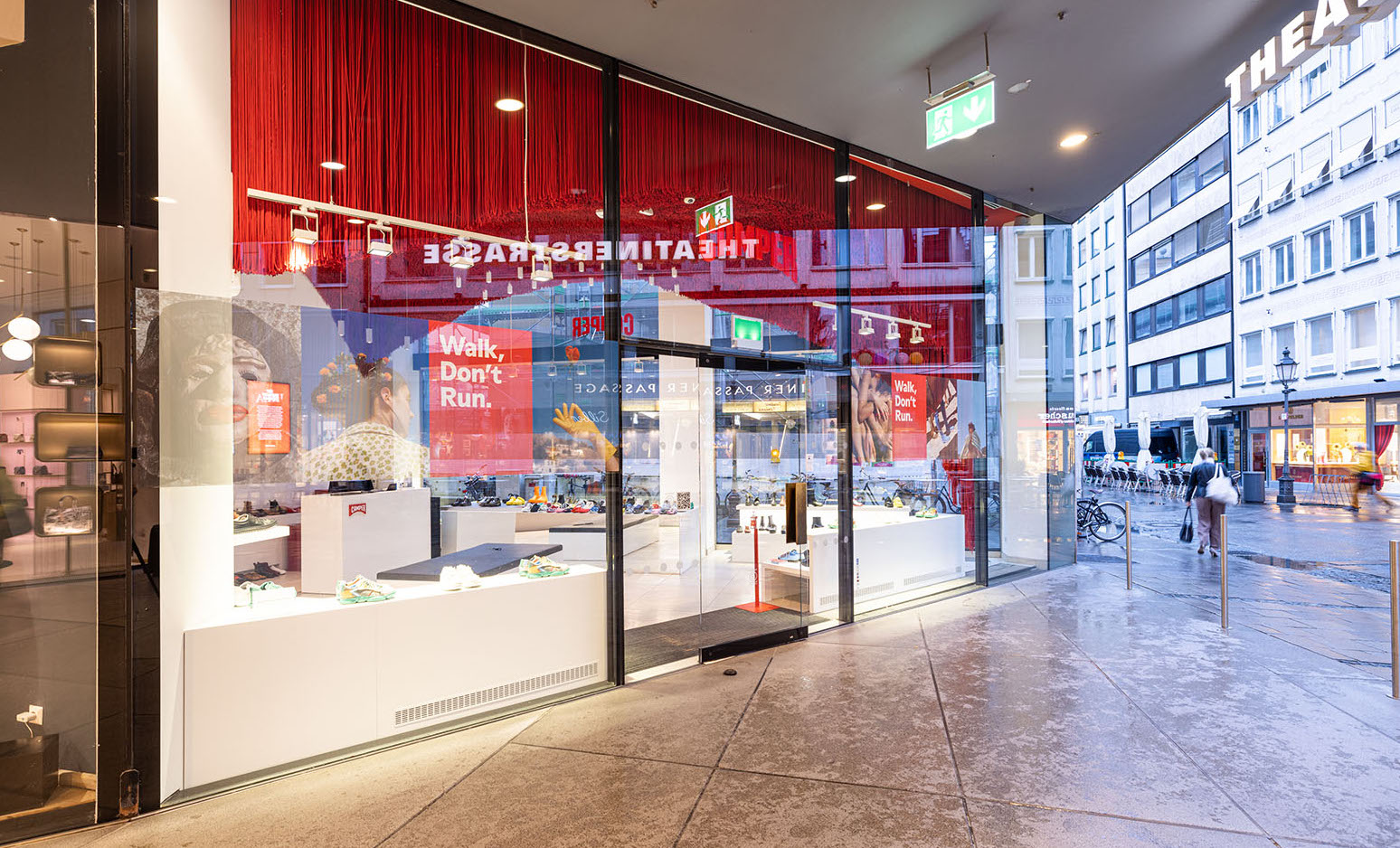 Camper Shoes Munich
Welcome to the flagship store of Camper shoes in the centre of Munich.
The heart of the Camper brand beats on Mallorca island, Spain. A young design team is working there together with trained artisans to develop around 500 styles per season. Many of these can be discovered at Camper Schuhe Munich. They revive some classic concepts, but at the same time work on new, original looks. The result: relaxed yet unusual shoe styles somewhere between cool sneakers and elegant footwear – a skilful liaison of sporty and smart.
Shoes as cult objects
The Camaleón, Camper's first shoe, is the epitome of simplicity, ingenuity and the beauty of Mediterranean tradition. The Pelotas quickly became cult objects with their cushioning studs on the sole and their unusual look. With the Twins, the right shoe looks different from the left. Wabis and Peus are slip-ons in the style of Japanese minimalism. And the Beetles have a sealed construction, an anatomical footbed and elastic laces. Finally, the To&ethers round off the Camper model history: These are collaboration models where they work with leading designers. At Camper Shoes Munich you will always find all the latest collections.
Mediterranean in Munich – Camper Shoes Munich
Every Camper store has its own personality, which puts the special brand identity in a new light – this is also the case with Camper Schuhe Munich at CityQuartier FÜNF HÖFE, one of the 400 Camper stores worldwide. Here customers can find the unique Camper creations, stylishly arranged in a lively shopping ambience that is wonderfully light and flooded with light thanks to the two glass fronts. Camper Schuhe München is looking forward to welcoming you!
Family tradition meets modernity
"Camper es Mallorquín" – the shoe brand from the island of Mallorca in Spain is a family business with a long tradition in shoe manufacturing. When the company was founded in 1975, Lorenzo Fluxa reacted to the growing demand for shoes with a new, fresh design. Fluxa, who comes from a family of shoemakers – his grandfather brought the first sewing machine from a trip to England to the island – used his knowledge of traditional craftsmanship as the basis for an extraordinary new brand. Camper is currently run by the fourth generation of the Fluxa family and now operates stores in more than 40 countries. One of them is Camper Schuhe Munich – incidentally, the only exclusive Camper store all over southern Germany!
At FÜNF HÖFE you can also find shoes at S. Baumeister or Peter Kaiser. And of course, some of our fashion stores – such as Boggi Milano, Marc O'Polo, Mohrmann, Muji and others – also have their own shoe collections in their assortment.
Are you looking for an overview of all the fashion and accessories stores at FÜNF HÖFE? You'll find them here.
FÜNF HÖFE
Theatinerstraße 16 / Ecke Salvatorstraße
80333 München
Women's, men's and children's fashion
Ground floor
Mon-Sat 10:00 am - 07:00 pm

Map
Map view:
2D

3D