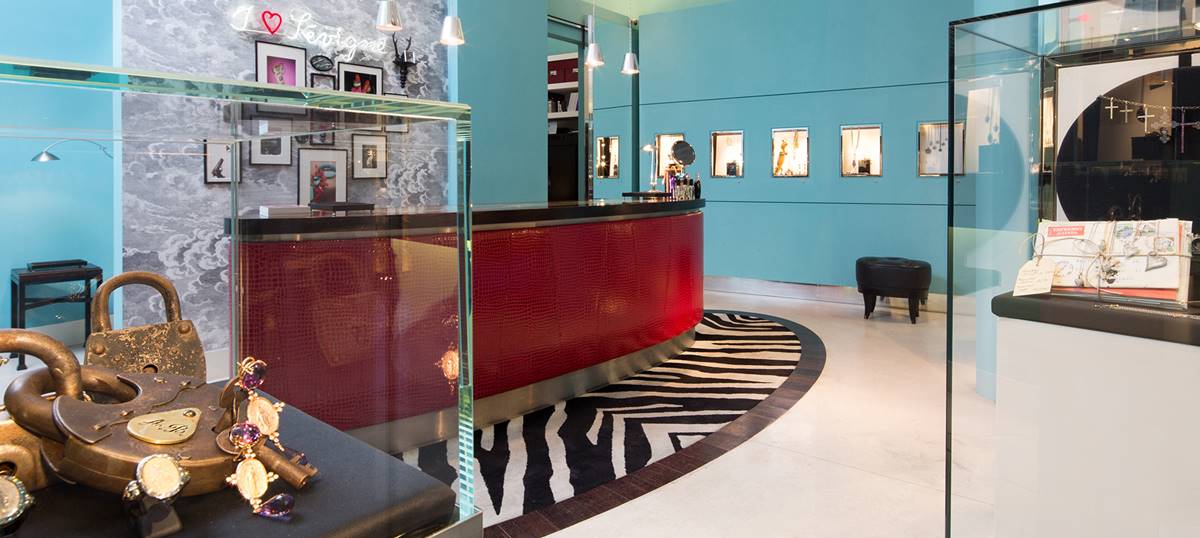 Sévigné Jewellery Munich
Sévigné has been a symbol of luxury handcrafted jewellery for more than 30 years. In 1984, Renate Schrems and Robert Fink founded the jeweller's shop on Promenadeplatz in Munich. The company was named after the capricious Marquise de Sévigné, who caused a sensation in the 17th century with her exquisite taste. The two designers are guided by this special charm in their designs. Archaic symbols and ancient motifs often serve as inspiration. At Sévigné Jewellery Munich at CityQuartier FÜNF HÖFE, the highlights of the collection are complemented by delicate and filigree pieces of jewellery from the young line. Sensual fantasy and a finely cultivated penchant for drama give all the pieces that certain something. The artistic and often humorous window decorations of the store in Perusahof are an eye-catcher, which also appreciates the proximity to the Kunsthalle Munich.
Sévigné's typical flair is a mixture of charisma, appreciation of art and dolce vita. Each of the unique pieces by Sévigné Jewellery Munich, made in their own workshop, lives from an original idea, often carried by humour, from the desire for intelligent, courageous femininity and from opulence in the most positive sense.
Madonna mia!
Sacred and stylish at the same time? It's possible: with the "sacred" jewellery pieces by Sévigné Jewellery Munich. The Madonna collection from the Munich goldsmiths has long been a cult – inspired by a tin coin featuring the French nun Catherine Labouré, who triggered a cult of the Virgin Mary in Europe at the end of the 19th century. The motifs are convincing as a fashion trend because they give every look that certain something: with the saint on rings, chain pendants or amulets, the sexy mini-silk dress immediately becomes more serious, the tank-top jeans combo more sophisticated and the noble satin blouse more extravagant.
Earrings, bracelets, cufflinks – at Sévigné Jewellery Munich
At Sévigné Jewellery Munich you will find rings set with diamonds and strip rings with various gemstones such as amethyst, sapphire, tourmaline, opal, coral, turquoise, ruby or tsavorite. Enchanting earrings, bracelets, pendants and necklaces present themselves from elegant to extravagant. In addition, there are luxurious couture pieces and men's jewellery made of silver or gold: cufflinks, rings, arm jewellery and watches. "Fine jewellery – handmade in Germany" is the credo of Sévigné Schmuck München. The international clientele appreciates the superior quality and individual service, and it is not uncommon to see the fine pieces on the Red Carpet or at glamorous VIP events.
Other jewellery designers at FÜNF HÖFE are CADA, Geträumte Taten and Niessing.
FÜNF HÖFE
Theatinerstraße 8
80333 München
Jewellery
Ground floor
Mon-Fr 10:00 am - 07:00 pm
Sat 10:00 am - 06:00 pm

Map
Map view:
2D

3D